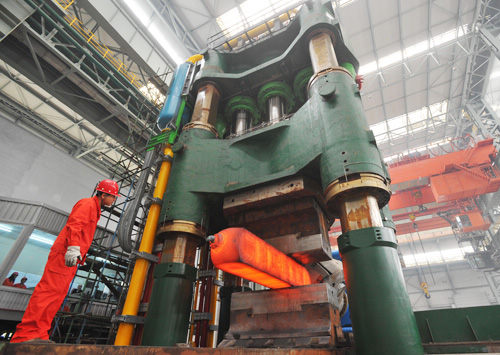 HIGHER AND STRONGER: A staff member checks machines at Dalian Special Steel Co. Ltd. in Dalian, northeast China's Liaoning Province (LIU DEBIN)
Xie said the reform should be differentiated in accordance with functions of SOEs in different industries. Reform of SOEs' property rights should aim at improving efficiency and benefits of SOEs, enhancing their innovation capability, improving core competitiveness and propelling development of SOEs and the national economy.
Li Jianming, Deputy Director of China Enterprise Confederation/China Enterprise Directors Association, said that while advancing the reform, the government should prevent such a misunderstanding: To diversify state-owned property rights is just selling SOEs to private investors. Instead, it is to trade the property rights by means of transfers, auctions, mergers and acquisitions, and equity investment to optimize the capital structure of SOEs, better allocate resources and improve the operation efficiency of assets.
More reforms needed
The market-oriented reform of SOEs started in 1994. By the time the SASAC was established in 2003, most of China's SOEs had completed joint stock reform and adopted a modern corporate system. Many SOEs were also listed in domestic or foreign stock markets.
However, although SOEs account for a large proportion in the Chinese economy, many SOEs lack competitiveness under the background of globalization, and their sense of social responsibility is weak. Since most SOEs hold a monopoly position in their industries, the high salaries of their employees and some other problems have aroused high appeals for the reform of SOEs.
The Chinese Government also hopes to reform the SOEs so that they can be more energetic and their structures can be more reasonable. The government is quite prudent when proceeding with the reform, collecting opinions and suggestions from all circles by holding discussions and seminars.
Li Shuguang, Executive Director of Graduate School of China University of Political Science and Law, said at a seminar held by China's top legislator on June 13 that there are two principles for the SOE reform: SOEs should share its benefits with all nationals to the maximum; and during the process of SOE reform, the government should give strong support to some responsible private enterprises so as to realize full competition.
Li's opinion is among the mainstream opinions concerning the reform of SOEs.
SOE reform is considered one of the core components of China's economic reform—and property rights reform is part of the reform of SOEs.
Bao Yujun, President of the All-China Private Enterprise Federation, said SOEs are just "big" but not "strong." Reform of SOEs should focus on enhancing their capability in public products and services and improving the country's core competitiveness; separating government functions from enterprise management and hiring senior managers from the market; and turning their profits to the state to provide public services.
Some SOEs, relying on their monopoly position or advantages in the upstream industries, have obtained high financial returns, said Bao. However, the overall productivity of SOEs is not high. Economic studies show that in the past three decades, improvement of productivity in SOEs has been slow, with the growth speed being one fourth of that in private enterprises.
China has allowed capital of various types to enter natural resources industries, which are monopolized by SOEs, said Bao. SOEs should change the old mentality of monopoly and equally compete with other enterprises. In the public utilities sectors such as tap water, power, gas and medicine, SOEs should not hold absolute control. Instead, they should cooperate with private enterprises.
"SOEs should return to their own post, that is, to supplement what the market fails to do, instead of snatching profits from private enterprises in sectors where the market functions well," said Bao.
Email us at: lanxinzhen@bjreview.com