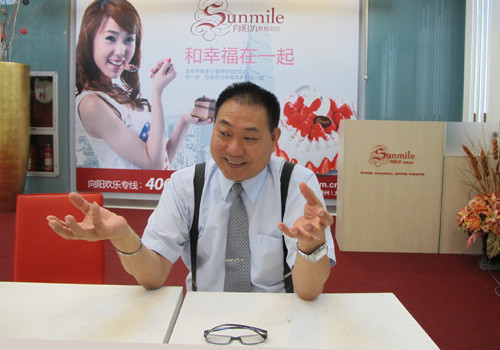 BUILDING A BAKERY EMPIRE: Huang Tien-chen enthusiastically talks about the future of Sunmile (ZHOU XIAOYAN)
With 600,000 yuan ($94,380) in hand, Huang Tien-chen embarked on an ambitious business quest to open a bakery shop in 1998. The young native of Taiwan had been down this path before, founding a real estate firm and a vehicle repair company in the early 1990s on the island east of Fujian Province. Both times he was met with a sluggish local economy and operation difficulties that forced him to abandon his ventures.
Huang's third attempt was different: This time he had abandoned Taiwan in favor of the mainland, choosing Xiamen as his starting base. Today, his bakery, Sunmile, has 500 stores and 17 subsidiary companies on the mainland.
"Over the past five years, sales revenue has increased at an annual rate of over 80 percent. The sales revenue in 2011 exceeded 500 million yuan ($78.65 million), and we expect it to reach 700 million yuan ($110.11 million) in 2012 and 1 billion yuan ($157.3 million) in 2013," said Huang, now Board Chairman of the Sunmile Cayman International.
As a leader and pioneer in the baking industry in Xiamen, Sunmile's operations cover bread, cakes, soybean milk, moon cakes, cookies, snacks and soft drinks.
Huang is one among many Taiwanese who have accumulated immense wealth by moving their businesses to or opening new companies in Xiamen. Located opposite Taiwan across the Straits, Xiamen is a key destination in the greater Western Taiwan Straits Zone.
By the end of December 2011, the paid-in investment from Taiwan had reached $7.92 billion and the industrial output value of Taiwanese companies accounted for 40 percent of the total in Xiamen. The city's cumulative trade volume with Taiwan totaled $44.45 billion in the years leading up to 2012, including $37.02 billion of imports from Taiwan and $7.43 billion of exports to Taiwan, according to the information department of the Xiamen Municipal Government.
In 2011, the trade volume between Xiamen and Taiwan was $7.24 billion, a year-on-year increase of 13.4 percent. Among the total, Xiamen imported $5.77 billion worth of goods from Taiwan, an 8.6-percent increase from the previous year, and exported $1.46 billion to Taiwan, a 37.9-percent increase. In 2011, Xiamen introduced 154 Taiwanese companies, and the paid-in investment from Taiwan hit $430 million, a 6.1-percent year-on-year increase, according to the department.
Taiwanese companies in Xiamen are mainly engaged in such sectors as photoelectricity, biomedicine, new materials, software and service outsourcing.
"We should expand people-to-people exchange across the Straits to promote the peaceful development of cross-Straits relations and increase the people's welfare. Consolidating and deepening the peaceful development of cross-Straits relations is the common responsibility of the people from both sides," said Jia Qinglin, Chairman of the National Committee of the Chinese People's Political Consultative Conference (CPPCC) at the Fourth Straits Forum that kicked off on June 16 in Xiamen.
Taking off
Taiwanese companies flock to Xiamen mainly because of its lower costs and huge market potential.
Wa Obi, a Xiamen-based fashion company, was founded by the Taiwan Jellery Trading Co. Ltd. in 2009. Like many other Taiwanese companies, Jellery Trading gained its initial fortune by being the original equipment manufacturer (OEM) for famous international fashion brands, such as Dior, Burberry and Coach.
Due to the increasing costs of exporting original components and equipment and the attractive emerging mainland market, Jellery Trading decided to transform its business pattern by establishing its own fashion brand. After two years of preparation, Wa Obi's high-end bags and accessories finally hit store shelves in 2009.