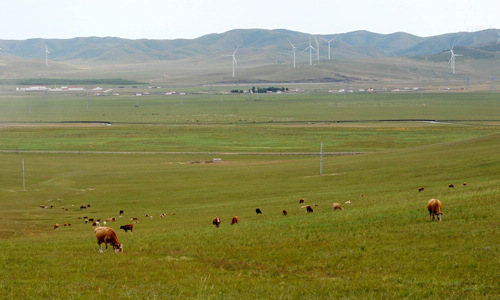 GREEN LAND: Livestock on the grassland in Tongliao, Inner Mongolia Autonomous Region (ZHANG LING)
Conjured up images of vast, romantic deserts and endless expanses of grasslands quickly come to mind at the mention of the Inner Mongolia Autonomous Region, one of China's five autonomous regions. But another geographic tag should also get pinned to this region in north China: economic oasis.
The GDP of Inner Mongolia enjoyed a 14.3-percent year-on-year increase in 2011, 5.1 percentage points higher than the national average and the fifth highest nationwide. But before 2011, the region's economic growth had ranked first nationwide for seven consecutive years.
"The slowing down is partly related to the international economic environment," said Feng Renfei, deputy secretary general of the autonomous regional government. "But the more important reason is that we began to transform the economic development pattern in line with China's sustainable development policies."
This year, Inner Mongolia expects to achieve a 13-percent growth rate, leaving some leeway as it adjusts its economic structure, Feng said.
Inner Mongolia is a main producer of beef, mutton, and fur and leather products. Yili Group and Mengniu Group, China's two dairy giants, are headquartered here.
Economic growth in Inner Mongolia, however, mainly relies on mineral resources and energy reserves. The region boasts more than 60 kinds of verified mineral resources, including rare earth, coal and silver. While China accounts for more than 80 percent of the global rare earth output, the region contributes 90 percent of the national total.
Statistics from the autonomous regional government show that the region's manufacturing industry accounts for more than 70 percent of its total GDP. There are 3,061 foreign-invested companies in the region, with 75 percent engaged in the manufacturing sector.
From 2000 to 2010, the region witnessed the fastest growth of coal, electricity and steel production nationwide, a huge contribution to its economic development. But it is impossible for the region to continue this mode in the upcoming 10 years, said Pan Zhaodong, a research fellow at the Inner Mongolia Academy of Social Sciences.
"Inner Mongolia has now come to a crossroad. Transforming its development mode is a serious issue," said Pan.
Government officials in Inner Mongolia agree that the most pressing issue is finding a way to change the region's economic development pattern without causing too many tremors to the local economy.
"As a region abundant in natural resources, Inner Mongolia, to achieve sustainable development, should think about how to overcome its long-term over-dependence on resources and energy industries," said Wei Xiaoming, inspector of the autonomous regional development and reform commission.
Some regions in China that used to depend on their ample natural resources for development are now finding themselves backed against a wall as those resources run out. Today, Inner Mongolia is facing a similar problem. In 2011, the coal industry contributed 12 percent of the region's total GDP, and its output value and profits accounted for nearly a quarter and a half of the region's industrial sector, respectively. But this kind of uneven industrial structure will create too many risks and is overall unsustainable, said Wei.
The autonomous regional government has enacted plans to help its economy steer clear of the natural resource trap by upgrading the resource sector. Last year the region produced 1 billion tons of coal, with 610 million tons shipped to other regions and less than 30 percent used in Inner Mongolia.
The region will also develop its non-resource sector.