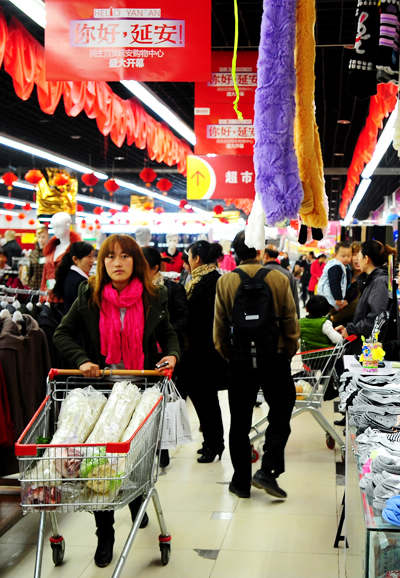 BUSY LANES: Consumers shop in a department store in Yan'an, northwest China's Shaanxi Province (LIU XIAO)
The China Textile Commerce Association is busy preparing for the Beijing Women's Shopping Festival this May. The commodity fair, aimed almost exclusively at female shoppers, will feature a wide array of dresses, bags, luggage, shoes, hats and various other accessories.
The Beijing shopping festival is just one of almost 70 promotional events being organized by the Ministry of Commerce to promote domestic consumption in 2012. The diversified portfolio includes China International Beer Festival in Dalian in July, the Ninth China International Gourmet and Travel Festival in Chengdu this September and China Silk Fashion Festival in Beijing this July.
The ministry also announced plans for a 2012 consumption promotion month between April 2 and May 4 to coincide with the Tomb Sweeping Day and Labor Day holidays.
According to Minister of Commerce Chen Deming, spurring domestic demand, especially domestic consumption, is fundamental to driving the country's steady and rapid economic growth, especially as overseas demand wanes and a high investment rate becomes unsustainable.
After the global economic recession occurred in 2008, the Chinese Government unveiled a series of subsidies and tax rebates to encourage domestic consumption of household appliances and cars to replace older models with new ones. That program ended in 2011.
This year China will continue the subsidy program for rural appliance purchases. The Central Government will also launch a series of policies to boost consumption. The new policies will focus on promoting projects in the green economy, low-carbon emissions, energy-conservation and environment protection, said Chen.
Chen also pointed out that soaring logistics costs in the past two years were blamed for consumer goods price hikes. The State Council has decided to clear up arbitrary charges in logistics to lower prices and improve the environment for consumers, said Chen.
The giant Chinese market will surely become a target international businesses cannot afford to miss. During the Third Novo Mania Fashion Trade Show held in Shanghai on March 7-9, a slew of European fashion brands signed dealership contract with Chinese agents, including Lotto, Puma and Elle. As a result of falling textile and clothing demand in the United States and the European Union, more and more international fashion brands have begun to make inroads into the Chinese market.
According to the PwC 15th Annual Global CEO Survey issued on March 15, with no signs of a pickup in the euro zone and U.S. economies, strong expectations are being placed on China for growth opportunities. Globally, 30 percent of global CEOs rank China as their top growth market in the next 12 months.
David Wu, PwC China Beijing Lead Partner, said that the Chinese economy may be slowing down, but the China story remains attractive and critical to global CEOs' growth strategy. China may have lowered its growth rate to 7.5 percent for this year, but that projection is still more than double the growth rate of the global economy.
While foreign companies spare no efforts in increasing their presence in China, local enterprises surely have more know-how in acquiring and holding on to market share. This April, Suning Appliance Co. Ltd., one of China's biggest privately owned electrical appliance retailers, will launch a more convenient installment payment scheme for home appliance purchases featuring "zero down payment, zero interest rate and zero commission."
Suning started its credit consumption of home appliances in 2008, and currently credit consumption accounts for 20 percent of its total sales volume.
"We hope to promote the growth of credit consumption with the launch of new projects," said Wu Enlong, General Manager of the Beijing Branch of Suning Appliance Co. Ltd.