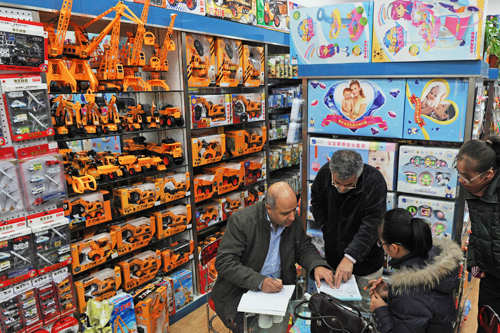 EXPORT WOES: Foreign businessmen place orders at a toy shop in Yiwu, Zhejiang Province, which is China's largest petty commodities market. The IMF cautioned that China's export market may slump in a worst-case scenario of the European debt crisis (TAN JIN)
China's economy is slowing, but remains a bright spot in an unpredictable global economy, said the International Monetary Fund (IMF) in its latest China Economic Outlook.
The IMF expects China's GDP to grow 8.25 percent in 2012, gathering speed in the latter part of the year and climbing to 8.75 percent in 2013.
"The Chinese economy has, once again, shown its resilience in the midst of a difficult external environment, buoyed by robust corporate profitability and rising household incomes," said the report. "However, net exports will prove to be a significant drag on growth in the coming two years."
If European debt woes continue to deteriorate, China will feel the impact mainly through trade, with moderate effects on domestic demand. In a worst-case scenario, China's growth would fall by around 4 percentage points as a result of Europe's growing problems. "The risks to China from Europe are large and tangible," said Murtaza Syed, resident representative of the IMF's Beijing office, at a seminar on February 6.
China's economy is unlikely to experience a hard landing, and the nation has the capacity to boost fiscal spending, said Anoop Singh, IMF Director for Asia and the Pacific, at a news conference. China can move away from its reliance on external demand and needs to build up domestic demand.
The purchasing managers index (PMI), a barometer of the country's manufacturing activity, rebounded to 50.5 percent in January 2012 from 50.3 percent in December 2011, a sign that the growth engine has regained a solid footing.
The IMF suggested that China's monetary policies should be adjusted to allow for a modest addition of credit into the economy.
Over the next couple of months, liquidity conditions need to be fine-tuned through open market operations. However, if foreign capital flows remain subdued, reserve requirements could also be lowered, said the report. The ongoing decline in inflation should be viewed as an opportunity to raise real loan and deposit rates in order to move the cost of capital closer to equilibrium and increase household financial income.
At last year's Central Economic Work Conference, policymakers pledged to make monetary policies more "targeted, flexible and foresighted." In November 2011, the People's Bank of China announced to cut the reserve requirement ratio by 0.5 percentage points for the first time in three years. This was widely seen as a signal for a shift in focus toward pro-growth policies.
But economists are divided about whether China is making a drastic enough switch to broader monetary easing.
Wang Tao, an economist at the UBS, wrote in a research note that the policy objective has clearly changed to support growth, as indicated by a rebound in bank lending at the end of 2011.
"In 2012, we expect the government to increase bank lending by at least 8 trillion yuan ($1.27 trillion), likely to be supported by two or three additional cuts of the reserve requirement ratios (for lenders)," she said.
But Fan Wei, an analyst with the Beijing-based Hongyuan Securities Co. Ltd., disagreed.
"Full-fledged monetary easing is less likely as China's reliance on exports is less than it was during the 2008-09 downturn," he said.
In addition, real inflation may be even worse than what the CPI data suggested, prompting policymakers to take a more neutral policy, said Fan.
China's efforts to rebalance the economy to rely more on domestic demand are drawing worldwide attention.
"The weak external outlook underscores the importance of accelerating the transformation of China's economy to reduce its vulnerability to the vagaries of global demand," said the IMF report.