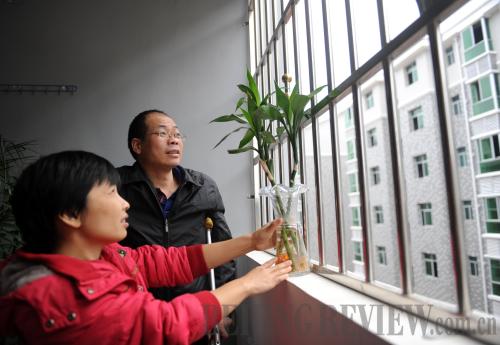 IN NEW HOME: Zhong Yanglin and his wife move to a community of low-rent houses in Dingnan County, Jiangxi Province, with a monthly rent of only 65 yuan ($10.32) (ZHOU KE)
China's real estate market experienced challenges in 2011, with the overheated market starting to cool down and the exorbitantly high house prices growth starting to decline.
According to figures released by the National Bureau of Statistics, in November 2011, 49 of the 70 surveyed large and medium-sized cities saw prices of newly built commercial houses drop compared with the previous month, and another 16 saw prices remain the same as October. On the yearly basis, prices of newly built commercial houses in four cities dropped, while 61 cities saw lower growth of prices of newly built commercial houses than a year ago.
In 2012 the country will maintain its control over the real estate industry, said Jiang Weixin, Minister of Housing and Urban-Rural Development.
Wang Juelin, Deputy Director of the Policy Research Center of the Ministry of Housing and Urban-Rural Development (MOHURD), said preventing the real estate market from overheating and stopping real estate prices from rebounding will still be the focus in 2012.
"Previous regulations have proved that once the regulation policy is loosened, house prices will rebound rapidly, which will not only bring losses to the real estate market and hurt the consumers, but also affect economic development and social stability," Wang said.
To make house prices more reasonable, it is important for the government to regulate the market's supply and demand.
Firmly curbing speculative investment demand is also the focus of real estate control. Jiang said in 2012 the country will continue to carry out differential housing credit, taxation policies and purchase limit measures and strictly implement the identification standard of second home buyers. In the meantime, the country will control the total scale of real estate loans at a reasonable level and grant individual housing loans in a balanced way.
"One of the long-term goals for us to establish the real estate market is to allocate resources via the market so as to meet the diversified housing demand, but not just to provide an investment market," said Qin Hong, Director of Policy Research Center of the MOHURD. "Whatever changes may happen in the detailed forms of regulating policies, the government won't change the general direction of curbing investment and speculative demand."
Differing from previous years, the MOHURD said in 2012 while it tries to curb irrational demand of home purchases, the government will support people's reasonable demand of home purchase, ensuring to satisfy the demand of first home buyers who are applying for loans. It will also fix a down payment ratio and housing loan interest rate in favor of first home buyers.
In the past year, because of the tightened control of bank credit, some commercial banks have raised down payments and interest rates for loans, which is not in conformity with the intention of the macro control. Some experts thought this situation should be changed.
When curbing speculative investment, Jiang set an important task in 2012 will be to accelerate building of common commercial houses of low and middle prices as well as small and medium sizes. According to Jiang, land supply for affordable houses and small and medium-sized commercial houses in 2012 will account for at least 70 percent of the country's total land supply for real estate.
In 2011, all 657 Chinese cities publicized their targets for controlling housing prices in accordance with the requirement of the State Council. By the end of last year, most cities had reached their goals.
Jiang said local governments should review their work on how they stabilized housing prices in the past year, and to those cities that did not accomplish the targets, local governments at the provincial level must report to the State Council by the end of January 2012.