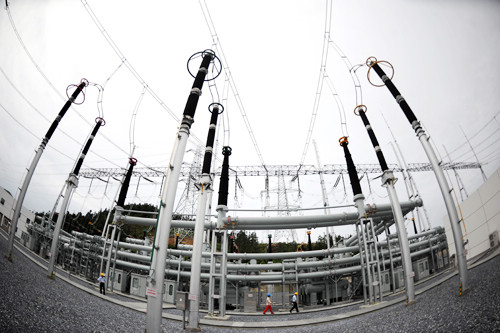 POWER LINES: Huzhou City in Zhejiang Province runs a new and more powerful high-voltage substation (XU YU)
Under constant pressure from power companies, the National Development and Reform Commission (NDRC) has agreed to raise electricity prices. The move comes despite the fact that price hikes could have a negative trickle down effect hindering the Central Government's efforts to rein in inflation.
Starting from December 1, 2011, the on-grid power price (power sold by power plants to grid companies) will be raised by 0.026 yuan ($0.004) per kilowatt hour (kwh); the retail electricity prices for non-residential users will go up 0.03 yuan ($0.0047) per kwh, a 3.3-percent increase. The price hikes won't affect household electric bills, said the NDRC, since a ladder pricing system will be put in place to monitor residential electricity use.
The NDRC also said next year thermal coal prices for contracts signed between suppliers and power plants should not increase by more than 5 percent from the previous year's agreements. Meanwhile, from January 1, 2012, the thermal coal price traded in the market will be capped.
According to the Bohai Rim Steam Coal Price Index, in the first 11 months of this year, average prices for steam coal with heating value of 5,500 kilocalories per kg remained above 800 yuan ($125), reaching a high of 850 yuan ($137). The new policy is meant to bring the thermal coal price lower.
The NDRC's plan has been anything but welcomed by the market, as analysts claim the moves will only address the symptoms but not the root causes of fluctuating electricity and thermal coal prices.
The current price hike was the result of huge losses incurred by thermal power plants. Figures from the China Electricity Council (CEC) showed that 236 of the 436 thermal power plants owned by China's major power producers suffered losses in the past few years. The five major companies—China Huaneng Group, China Datang Corp., China Huadian Corp., China Guodian Corp. and China Power Investment Corp.—lost 78.35 billion yuan ($12.32 billion) from 2008 to July 2011. Worse still, the more electricity they generate, the more losses they incur.
Figures from the CEC showed the cost of generating electricity in thermal power plants was about 0.5 yuan ($0.08) per kwh, while the on-grid power price was 0.42 yuan ($0.07), meaning the plants lost 0.07 yuan ($0.01) for each kwh of electricity generated. With production enthusiasm at a low, power plants chose to turn off their machines to cut losses. Figures also showed in the first half of 2011, each thermal power generating unit only operated 5,200 hours per year, 300 hours less than the designed capacity. Since September, more than 10 million kwh of capacity has been left idle.
About 75 percent of China's electricity is supplied by thermal power plants. Turning off generators causes electricity to be in short supply. The CEC forecast a 30-40 million kwh supply gap from this winter to next spring, and that central and south China will suffer most from power shortages.
Power shortages hit a larger part of China in the first three quarters this year, forcing 17 provinces to take power rationing measures. In the past, electricity shortages were caused by insufficient capacity, but this year the problem is a reluctance to produce on the part of power companies.
In the years leading up to 2002, China's thermal power plants were huge profit makers. At that time, the Central Government controlled the prices of coal and electricity and the supply of coal was much larger than demand. The government held a coal fair each year where coal prices were set and the power plants could get as much coal as possible. Under this model, the coal industry ran at a loss, while the power industry reaped handsome profits.