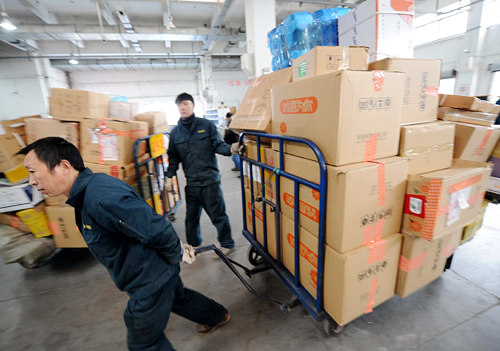 BETTER COMMUNICATION: An engineer at Fujian Funo Mobile Communication Technology Co. Ltd. sets up a communications system on her computer (ZHANG GUOJUN)
China might embrace a new round of investment in 2012 thanks to the industrial development blueprints which have been or will be issued by government departments such as the Ministry of Industry and Information Technology (MIIT), Ministry of Commerce, and the National Development and Reform Commission. Those plans involve more than 20 industries, including new energy, renewable energy, coal industry, environmental protection, trade service, iron and steel, finance, bio-pharmaceutical, the Internet of Things and strategic industries.
The authorities ordered the plans to be issued in November or December to provide the industries with clear guidelines as they enter the second year of the 12th Five-Year Plan (2011-15).
This year is the first year of the 12th Five-Year Plan during which a series of industrial development plans should be enacted. The next year is the first year of implementation of those plans. Judging by the announced plans, the Central Government has designated massive fiscal, financial, tax and policy support to relevant industries. The signals sent by the government will attract more investment in relevant industries.
Domestic capital and companies have already prepared for new investment for industrial upgrades and innovations in line with the plans. In the meantime, well-known international institutions and investment banks have also shown interest in China's economic structural reform as well as arising investment opportunities. According to the World Bank, China will take concrete steps in economic restructuring and relevant industries, such as the new emerging industries, upgrade traditional manufacturing and modern service industries and provide new opportunities for global investors.
The World Bank report also pointed out that even though Chinese economic development might slow down, it is possible to expect a big rise in the quality of China's economic development due to the structural reform.
For years, the Chinese Government has been promoting economic restructuring. Li Yizhong, Chairman of China Federation of Industrial Economics (CFIE), warned if China continues its current economic practice, it may not only sabotage its environment but also drag the economy down.
Deep-rooted problems emerged after more than three decades of fast economic development. First, China's industry is big in size, but not always strong. It lacks innovation and relies heavily on imports of key facilities, and core technologies. China does not have internationally competitive companies or brands. Li believed the stage of "trading market for technology" has passed, and China should enter an innovation phase.
Second, the resource and environment factors cannot sustain the traditional economic development model. China's output of crude steel, cement and coal account for 45.4 percent, 50 percent and 45.6 percent respectively of the world's total, but its GDP takes up 9.5 percent of the world's total.
In 2010, China consumed 3.25 billion tons of standard coal. Even if it controls the increment of coal consumption within 100 million tons each year, China will need more than 4.2 billion tons of standard coal by 2020. Achieving industrial modernization will be impossible if China follows the old path of development.
Third, the proportion of investment, consumption and export remains imbalanced. China has traditionally relied on investment and exports for economic development. Investment grew 25.5 percent each year on average during the 11th Five-Year Plan (2006-10), resulting in price surges of energy and raw materials, heavy local debt and excess production capacity in certain industries. Back then, exports contributed 50-60 percent to economic growth, making China's economy vulnerable to international fluctuations.
Since the global financial crisis in 2008, the world economy has been undergoing tremendous changes. Li said it is without doubt that the Chinese economy will continue to be prosperous in spite of domestic or international obstacles. But he warned of a more complicated and serious industrial development situation.
Internationally, the world economy will continue to be unstable for a long time. The economic downturn in European and American countries would to some extent hamper the world economic recovery. Global investment, consumption and international trade might stay at a relatively low level. Potential risks of the European and American debt crisis cannot be overlooked. World economic recovery will be long and much more effort is needed if any form of prosperity is to be attained. Economic takeoff in developed economies needs a fundamental structural change and will be spurred by new growth engines.