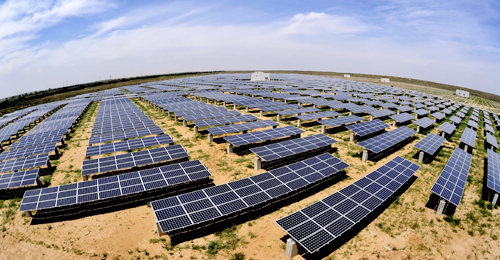 EXPANDING SOLAR POWER: The Gaoshawo photovoltaic power plant in Yanchi County, Ningxia Hui Autonomous Region. China plans to increase the proportion of non-fossil energy in its total primary energy consumption to 11.4 percent by 2015 (WANG PENG)
China has invested 1.73 trillion yuan ($272.44 billion) in domestic new and renewable energy innovation over the past five years, and is the global leader in terms of investment in the sector. During the same period, the investment of the United States, the world's second-largest investor, was equivalent to 86 percent of China's.
The figures come from the Annual Review of Low-Carbon Development in China (2011-12) released by the Climate Policy Initiative at Tsinghua University on November 9 in Beijing. According to this review, funding from the central and local governments for the low-carbon economy has increased rapidly since 2005, indicating that low-carbon development has become an important direction for the Chinese economy.
Big investment in new and renewable energy has reversed the trend of increasing energy intensity, which refers to energy use per 10,000 yuan ($1,574.8) of the GDP. According to the annual review, in 2010 China achieved a 19.1-percent reduction in energy intensity against the 2005 energy intensity baseline. This reduction is equivalent to an energy intensity improvement of 630 million tons of coal equivalent and carbon dioxide emission reduction of 1.55 billion tons. The proportion of non-fossil energy among all primary energy resources increased by 1.8 percentage points, and forest growing stock increased 900 million cubic meters.
Figures also show that technological development has driven China's total energy intensity improvement by 69 percent, and structural adjustment contributed 23 percent.
The annual review says during the 12th Five-Year Plan (2011-15) period, China will invest more in structural adjustment for energy saving and emission reduction, and the low-carbon investment will continue to grow rapidly. It is estimated that in the next decade, China's new energy investment will reach 5 trillion yuan ($787.4 billion).
Since 1992, China has implemented a series of measures to develop the low-carbon economy, such as improving energy efficiency, developing clean energy, planting trees and participating in international cooperation.
Liu Yanhua, a consultant to the State Council, said China's industrialization started one or two centuries after most countries in the West, and China is now still in the primary stage of industrialization. Historically the per-capita emission of carbon dioxide in developed countries was higher than 300 tons and in some countries, the amount even exceeded 500 tons. In China, the per-capita emission is lower than 100 tons.
Though a developing country, China said it would reduce its carbon dioxide emissions by 40-45 percent at the UN Climate Change Conference in Copenhagen.
"We have made efforts and sacrifice to fulfill this commitment," Liu said.
According to Liu, China has made economic structural adjustments and eliminated outdated production modes, some of which even had been eliminated before their profit cycles ended.
Figures released by the National Development and Reform Commission (NDRC) showed that in the past five years, China eliminated 70 million kw of small-scale thermal power generating sets, higher than the total installed capacity of thermal power in the United Kingdom. A report released by the Chinese Academy of Social Sciences said by 2020 almost 600,000 people would lose their jobs due to the closure of small thermal power plants. Moreover, China will also close 10,000 small coalmines.
However, developing the low-carbon economy also brings many new job opportunities. According to a report released by the China Renewable Energy Industry Association, there are 6,000 solar energy enterprises nationwide, creating 200,000 job openings.
Liu said for energy saving and emission reduction, China has made large investment in technology development and marketing of renewable energy, which has brought worldwide contributions. "As a developing country, China faces tasks of both developing the economy and reducing emissions. Despite its impacts on our economic development, we have tried hard in reducing emissions," Liu said.
Research by the Climate Policy Initiative at Tsinghua University shows that affected by the GDP-oriented concept, local governments in China have strong incentives to expand economic scales. This may adversely affect the performance of low-carbon economic development of the whole country.