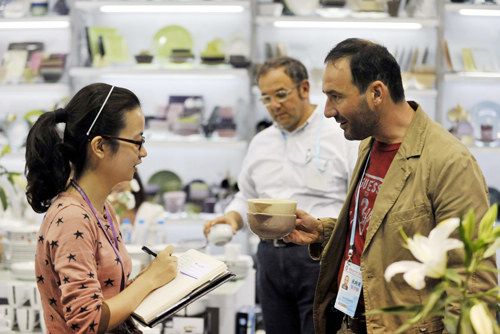 EXPORT CONCERNS: A foreign businessman asks about ceramics products at the 110th Canton Fair in Guangzhou, Guangdong Province (CHEN YEHUA)
As growing uncertainties hang over China's trade front, a closer look at the latest Canton Fair, a barometer of China's foreign trade, can provide an insight on how exporters are faring.
Officially known as the China Import and Export Fair, the biannual Canton Fair is held every spring and autumn in Guangzhou, capital of south China's Guangdong Province, and each fair has three phases. The 110th Canton Fair, held from October 15 to November 4, attracted more than 24,000 enterprises from home and abroad. Its first two phases witnessed export deals worth around $33.18 billion, up 3.2 percent over the spring fair.
With more foreign buyers roaming its vast halls, the bustling trade fair, coming amid the simmering debt crisis in Europe and economic weakness in the United States, sent out a signal that exporters were recovering some lost ground, though a bumpy road might still lie ahead.
"The export outlook is less promising given lackluster external demands and domestic costs inflation," said Liu Jianjun, a spokesman of the fair. "But buyers from emerging markets like India and Brazil have increased significantly, while orders from developed countries remained stagnant."
"More disturbing, though, is the fact that foreign purchasers tend to sign short-term and smaller-scale contracts out of fears of an appreciating yuan," said Liu.
The Chinese currency has gained more than 4 percent in value against the dollar so far this year, making a dent to competitiveness of Chinese exports.
"We suggest exporters take countermeasures to fend off currency risks, such as switching to yuan settlement or signing contracts locking up exchange rates," he added.
For most Chinese exporters, September and October should be the busiest months of the year, as Christmas orders keep their machines humming. But this year, the euphoria seems to be fading.
"The festive orders are coming in, but at least 10 percent fewer than last year," said Zhou Zongyou, General Manager of Guangdong Eagle Gifts Co. Ltd. "We attend every session of the Canton Fair, and obviously, foreign traders are becoming more hesitant to place orders."
"Due to surging labor costs and raw material prices, we had to raise product prices by 5 percent," he added. "But even such modest increase is mostly unacceptable to buyers."
But Zhou still keeps his fingers crossed for a brighter export market. "I hope the current downturn is only temporary, and a substantial turnaround is on the way," said Zhou.
Zhou's experience paints a vivid picture of what is happening to China's export sector. In September, exports went up 17.1 percent to $169.67 billion, while imports amounted to $155.16 billion, up 20.9 percent from a year ago, according to data from the General Administration of Customs.
"It is only a matter of time before the turmoil in the United States and euro zone feed into China's trade economy," said Ren Xianfang, an analyst with the IHS Global Insight, a global consulting firm.
"September is traditionally a poor month for trade, but whether this month like September 2008 marks the start of a sharp decline depends largely on developments in the euro zone," she said.
In the wake of the global financial crisis, China's exports experienced an acute crunch in 2008, causing massive factory closures and painful layoffs, as well as putting a serious drag on economic growth.
"We don't expect China's exports to collapse as sharply as they did three years ago, but it is highly likely that external demands will decline in the coming months," said Zuo Xiaolei, chief economist with the Beijing-based China Galaxy Securities Co. Ltd.
Zuo predicted that monthly export growth will drop to a single-digit rate in the fourth quarter.
Hu Yunjiang, a researcher at the Development Research Center of the State Council, pointed out that Chinese exporters have problems of their own.
"China's exports are mostly low-end products with less added value, and the manufacturers still have a long way to go to move up the value chain," he said.
Since orders from the West are declining, many manufacturers are looking to emerging markets.
Zheshang Securities Co. Ltd. conducted a survey of more than 20 Chinese exporters at the 110th Canton Fair and found that their orders from India, Viet Nam and the Middle East increased 30 percent from last year, contributing one third to their total businesses.