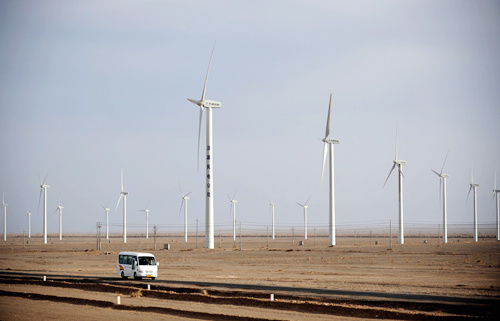 WIND BASE: A wind power plant in Jiuquan, Gansu Province. The city is home to China's first 10-gw wind power project (HAN CHUANHAO)
At its birth in 2008, China Wind Power (CWP) exhibition only attracted 200 exhibitors, and the exhibition area only covered 10,000 square meters. Three years later, CWP 2011 attracted more than 600 exhibitors, and the exhibition areas covered 50,000 square meters. Xia Lihua, General Manager of CCID Conference and Exhibition Co. Ltd., which is co-organizer of the event, said CWP has become the world's third biggest and Asia's biggest wind power exhibition.
"The scale is closely related to the development of the wind power industry," she told Beijing Review.
According to figures released by the Chinese Wind Energy Association (CWEA), in 2010 China installed 18.93 gigawatts of wind power with 12,904 wind turbines, a year-on-year increase of 37.1 percent—almost half of the new wind turbines installed globally in 2010. The cumulative installed capacity is now 44.73 gw with more than 34,000 turbines. In the first half this year, China installed wind capacity of 6 gw, replacing the United States as the country with the most wind power installed capacity.
CWEA figures showed that in 2010 China's wind power output hit 50 terawatt-hours, growing by 78.9 percent year on year, accounting for 1.2 percent of the country's total electricity generated.
Chinese manufacturers of wind power equipment continue to rank among the world's leaders. Sinovel, Goldwind and Dongfang Electric moved up to the global top 10 and United Power joined the club this year, ranking at number 10.
"China's wind market doubled every year between 2005 and 2009. China has become the single largest driver for global wind development," said Klaus Rave, Chairman of the Global Wind Energy Council (GWEC).
According to China Wind Energy Development Roadmap 2050, the country's total wind power installed capacity will reach 1,000 gw by the middle of the century, with deployment on land and offshore of 30 gw per year. The Energy Research Institute of the National Development and Reform Commission issued the report in Beijing on October 19 with close technical support from the International Energy Agency.
The report says the share of wind power in China's electricity production could rise to 17 percent by 2050 from the present 1.2 percent, an achievement that could reduce carbon dioxide emissions by 1.5 gigatons per year.
"However, China's rapid growth in wind power doesn't come without challenges," said Rave.
Jiuquan in Gansu Province, where China's first 10-gw wind power base is located, has witnessed 35 electrical equipment malfunctions this year, according to a report released by the State Electricity Regulatory Commission (SERC), China's power regulator.
SERC said the malfunctions, all caused by transformer breakdowns, led to four large-scale blackouts in February and April.
These accidents have exposed major problems in China's booming wind power industry, according to SERC. The commission attributes these accidents to the absence of low-voltage ride-through (LVRT) capability in wind turbines. LVRT, a necessity to ensure grid safety, provides wind turbines with the capacity to maintain continuous operation during and after precipitous voltage dips. LVRT-capable wind turbines allow the power grids to be more quickly adjusted and improve their overall safety and stability against variations in wind speed.
Liu Qi, Deputy Director of the National Energy Administration (NEA), said, "The accidents took place partly because we had emphasized the construction of wind farms on a large scale but neglected product quality and management."
After these accidents, SERC carried out a comprehensive check of the wind power farms nationwide in August, focusing on the safety management of wind power plants, wind power equipment, and operations and access systems of wind power plants. The commission said the check aimed at researching the safety status of China's wind power development and analyzing the impact of large-scale wind power operations on the safety and stability of the power system.