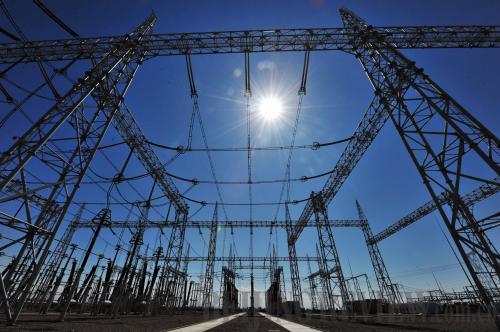 IMPROVING NETWORKS: A 750-kv transformer equipment of Wubei Transformer Substation in the Xinjiang Uygur Autonomous Region. In the first half of this year Xinjiang transmitted 2.01 billion kwh of electricity to other parts of the country (JIANG WENYAO)
To reverse the situation of power shortages and mobilize the initiatives of local governments, enterprises and foreign investors, China started the reform of the power industry in 1985. The reform included two policies: To attract investors to set up power plants, with the power grid managed by the government, and to gradually relax access administration and price administration and delegate oversight to supervise the power industry to local governments.
The reform has greatly promoted development of the power industry. The newly installed capacity grew at an annual rate of 10 million kw, and by 1995 the total installed capacity had reached 200 million kw.
In March 1997 China started the second round of reform of its power industrial management mechanism, separating functions of government supervision and enterprise operation. The state-owned State Power Corp. of China was established, which served as a power producer without administrative functions. This reform was just the start of the market-oriented reform, and a mechanism of market competition had not been formed. The State Power Corp. of China integrated functions of power generation, transmission, distribution and sales, controlling all the power grids and almost half of the country's power plants.
In the mid-1990s great changes took place in the country's power supply and demand: Power shortages were no longer prevalent, the supply and demand was almost balanced and in some regions supply even surpassed demand. The change brought competition to the power generation market, sharpening competition and exposing disadvantages of monopolies.
In 2002, a thorough market-oriented reform of the power mechanism started. Major policies of this round of reform included: Separating assets of State Power Corp. of China into two grid companies (State Grid Corp. of China and China Southern Power Grid Co. Ltd.), five power generation groups (China Huaneng Group, China Datang Corp., China Guodian Corp., China Huadian Group and China Power Investment Corp.) and five auxiliary industry groups (China Power Engineering Consulting (Group) Corp., HydroChina Corp., Sinohydro Corp. Ltd. and China Gezhouba (Group) Corp., and establishing the State Electricity Regulatory Commission as the overseer of the power industry.
After years of construction China expects to have a total installed capacity of 1.05 billion kw by the end of 2011, having the world's second largest installed capacity only after the United States.
However, power construction is unbalanced among different regions of China. In the eastern coastal area power supplies fall short of demand, while in central and western regions supplies exceed demand. Since 2007 power shortages have remained a problem in the eastern area almost every year.
The latest round of reform of the power mechanism obviously aims to reorganize the two power grid companies and the four auxiliary groups to strengthen power construction, balance power supply and demand and reverse the regional imbalance of power construction.
"The power construction market is the main content for this round of reform, and regional power markets are the focus of present market construction," said Sun.
Sun believes, however, there are more urgent circumstances in China's power industry that should be reformed. Differing from other countries where the power industry is led by private companies, China's power industry is still controlled by state-owned enterprises. At present, China's power investment is not yet fully opened to private investors. State-owned power constructing enterprises almost monopolize the country's power construction projects while private and foreign investors only hold a tiny share. Further, selling prices of electricity are strictly controlled by the government, and the relationship and benefits among power grids, power plants and auxiliary industries need to be further rationalized.
China's Power Construction
According to figures released by the China Electricity Council, by 2015 China's total power consumption will reach 5.99 trillion-6.57 trillion kwh. During 2011-15 the country's power consumption will grow at an average annual rate of 7.5-9.5 percent. By 2020 China's total power consumption will reach 7.85 trillion-8.56 trillion kwh.
According to National Development and Reform Commission (NDRC) plans, by 2015 the country's total installed capacity will reach 1.44 billion kw, with an average annual growth of 8.5 percent, of which the installed capacity of hydropower will reach 284 million kw. By 2020 the country's total installed capacity will reach 1.89 billion kw, with an average annual growth of 5.6 percent, of which the installed capacity of hydropower will reach 330 million kw.
To achieve the planned goals, the NDRC will invest 5.3 trillion yuan ($776 billion) in the power industry in the next five years, up 68 percent compared with the previous five years. Of the total, investment in power generation will be 2.75 trillion yuan ($402.64 billion) and that in power grids 2.55 trillion yuan ($373.35 billion), accounting for 52 percent and 48 percent respectively of the total investment.