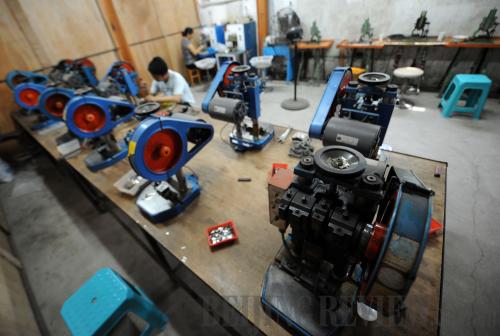 FEELING THE PAIN: Pictured is a small electronics plant in Yueqing, Zhejiang Province. SMEs in the province are encountering financial difficulties due to tightening monetary policies (HAN CHUANHAO)
"Acute costs inflation and power shortages across the nation are rubbing salt into wounds of the small firms," said Zhou Dewen, Deputy Director of the China Association of Small and Medium Enterprises. "If the trend continues, 40 percent of SMEs in Zhejiang would go bankrupt next year."
"Major economic indicators such as growth in industrial output have shown signs of tapering off," said Huang Yiping, a professor at the National School of Development of Peking University.
The added value of industrial enterprises above a designated size—annual sales revenue of 20 million yuan ($3 million)—grew 14 percent year on year in July, 1.1 percentage points slower than in June, said the National Bureau of Statistics (NBS).
In July, the PMI for the whole manufacturing sector stood at a 29-month low of 50.7 percent, the fourth consecutive month of decline, said the CFLP.
Loosening or not?
Looking ahead, economists are divided on how China will respond to the complicated economic situation.
"China will try to target its credit easing at small firms," said Stephen Green, a Hong Kong-based economist with the Standard Chartered Bank.
"But money is fungible. It moves where people want it to go or where people pay for it to go," he said. "So any kind of effort to significantly ease credit conditions for SMEs is going to affect the overall credit conditions."
Ma Jun, an economist with Deutsche Bank, believed the likelihood for a loosening is even greater than expected, particularly in the fourth quarter, with growth in the West stalling due to U.S. and European debt ailments.
"The waning global economy will also add downward pressures on China's consumer price index (CPI) as international commodity prices are falling sharply," he said.
But Fan Jianping, chief economist with the State Information Center, believed it is still too early to loosen the monetary policy since inflation still outweighs growth as China's top macroeconomic risk.
"If we fail to reap a bumper harvest of autumn grain, then food-price-driven inflation will continue through the rest of the year," he said. "Worse still, the United States may launch a third round of quantitative easing, adding fuel to China's imported inflation."
"We are only half-way on the tightening process, and there is no way back to monetary expansion," he said. "Because of a lagging effect, we must wait until the fourth quarter to see if the tightening measures are taking effect."
Lu Ting, an economist at the Bank of America Merrill Lynch, said China is unlikely to ease up on its monetary policy and may have a fiscal response, including more spending on public housing and water conservancy.
"Beijing is in wait-and-see mode regarding monetary policy stance," he said. "It's quite safe to expect no interest rate and reserve ratio hikes in the second half."
Lu Zhengwei, chief economist with the Industrial Bank Ltd. expected China to raise interest rates and the reserve requirement ratio one or two times later this year.
"There is still room for hikes in interest rates, which remain negative in real terms due to high inflation," he said.
China should make policies based on its own conditions, and the external environment is a less important factor, said Lu. "However, the deteriorating health of the U.S. economy makes it more difficult to predict timing of these moves."
Moreover, loosening policy too early will only pave the way for inflation to come back quickly and blow up the asset bubble, he said.
Qu Hongbin, chief China economist at HSBC, said the government is unlikely to change its monetary stance any time soon, as domestic inflation remains a daunting challenge.
He estimated that the CPI will stay above 5 percent for another few months before dropping to around 4 percent by the year-end.
On August 10, the central bank released the China Monetary Policy Report for the second quarter of 2011, pledging to maintain a prudent monetary policy to combat inflation.
"Stabilizing consumer prices remains the top priority of the country's macroeconomic control," said the report. "Meanwhile, it is necessary to closely monitor domestic and overseas economic situations and make monetary policy more targeted, flexible and foresighted."
"In addition, the country will optimize the credit structure and step up credit support to small companies, agriculture, the modern service sector and environmental protection," it said. "Vigorous efforts will be made to strike a balance between maintaining relatively fast growth, restructuring the economy and managing inflationary expectations."