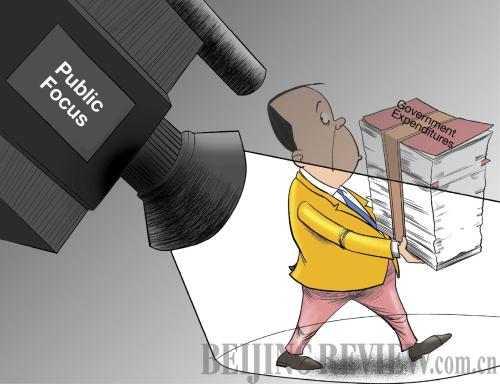 (CFP)
In an unprecedented move, China's 98 Central Government departments and institutions in July began disclosing their expenditures for overseas trips, official car use and receptions. The disclosures include their actual 2010 spending and 2011 budget as required by the State Council.
"This marks a landmark in promoting China's administrative transparency and a significant move as China reforms its political system," said Zhu Lijia, professor of public administration with the Chinese Academy of Governance.
But old practices die hard. The goal of administrative transparency will not be achieved in a few months and the disclosures so far are not as detailed as the public have expected. Still, the fact the Central Government is promoting budget transparency shows China's determination to push forward political system reform, Zhu said.
Taking the first step
It has been a target of criticism for many years that government departments kept the details of their spending from the public eye.
Zhu wrote an article in 2006, pointing out the corrupt doings of civil servants who use cars purchased by public funds, spend public funds dining and wining, and travel abroad at government expense.
"It will stir up resentment among the people and affect the collective image of the Communist Party if Party and government officials continue to enjoy these kinds of privileges," he said. "Furthermore, government spending in the aforementioned three categories is usually unchecked. It's a hotbed for such corrupt practices as squandering and waste, embezzlement and fraud. That's why they attracted a lot of attention."
These problems, along with appeals from the public, have prompted the Central Government to work out solutions. China began to implement a regulation on government information disclosure back in May 2008, with focuses on financial budgets and financial statements of various government departments, to a par with environment protection, public health, safe production and food and drug quality supervision.
The issue was revisited at the State Council executive meeting chaired by Premier Wen Jiabao in March where the Central Government decided to further reduce the central budget on official cars, receptions and overseas trips. The meeting also instructed the Ministry of Finance to include details of related expenditures by all departments of the Central Government in its June report to the Standing Committee of the National People's Congress. A system for managing, examining and verifying related funds, and establishing an effective mechanism to promote frugality among government departments will also be set up.
"Most importantly, it was the first time that the government took the initiative to accept public supervision on its spending," Zhu said.
The pursuit of spending transparency is a positive step forward to government information disclosure, said Wang Jingbo, professor with the China University of Political Science and Law.
"In making fiscal expenditures public and allowing transparency, the government shows respect to the people's right to know," Wang said. "Only when this kind of spending is disclosed properly and timely can the government's actions come under the public spotlight, helping the government win support and recognition from its people."
Having open and transparent governments represents a global trend, and China will be no exception, Wang said.