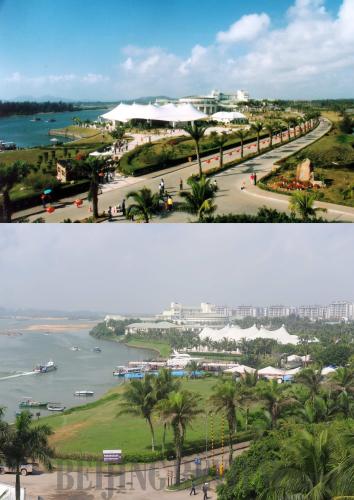 GLOBAL FAME: Boao, once a fishing village in Qionghai, Hainan Province, has gained international acclaim as the venue of Boao Forum for Asia for the past decade. Pictured is the forum's conference hall in 2002 (top) and 2011 (bottom) [MENG ZHONGDE] 

Background of the Boao Forum for Asia
Initiated in 1998 by Fidel V. Ramos, former President of the Philippines; Bob Hawke, former Prime Minister of Australia; and Morihiro Hosokawa, former Prime
Minister of Japan, the Boao Forum for Asia was formally inaugurated in February 2001. Countries across the continent have responded with strong support and great enthusiasm, and the world has listened attentively to the voices
coming from a tiny, quiet and scenic island at the southernmost part of China, Boao, the permanent site of the annual conference of the forum since 2002.
Missions
In a bid to promote the development goals of Asian countries through greater regional economic integration, Boao Forum for Asia endeavors to:
Provide a platform for high-level interactions between representatives of governments, business leaders and academic scholars to deepen trade and investment ties, promote partnerships and advance different perspectives on emerging global economic challenges;
Gain deeper understanding of the diversity of the region through wider discussion of culture and the arts, and foster a deeper sense of social responsibility among private enterprises within Asia;
Develop an enabling environment and strengthen synergies for the promotion and growth of business enterprises with the goal of attaining sustainable economic progress in the region;
Nurture and promote the concept of intra-regional institutional networking and region-wide strategic links with the objective of enhancing trade and investment opportunities arising from globalization, both within the region and in the rest of the world; and
Provide intellectual leadership for developing human resources and further research on issues of importance, both internal to the region and its relationships with the rest of the world.
Strategies
Boao Forum for Asia vows to pursue the missions through the adoption and implementation of appropriate strategies, which include:
Convening conferences, seminars and workshops on a regular basis, to discuss important issues in the areas of trade, investment and environmental protection;
Complementing other regional and international initiatives to intensify and strengthen partnerships between governments and business enterprises in matters of trade and investment;
Monitoring global and regional economic trends that impact economies of the region;
Collating and disseminating information on emerging issues affecting trade and finance and highlight new opportunities for regional cooperation;
Pursuing in-house and collaborative research activities that will contribute to the overall goals of the forum;
Facilitating contacts between enterprises in the region through the development of networking arrangements; and
Becoming a center for research and graduate training to equip Asian business communities with better management and technological capabilities.
(Source:www.boaoforum.org)