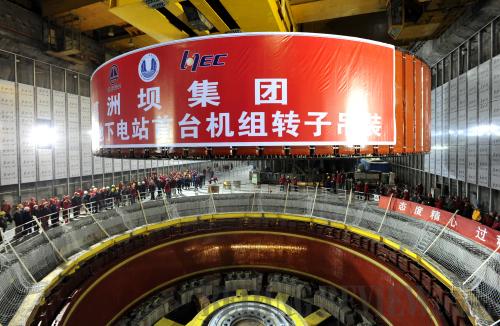 POWER PROVIDER: A rotor is installed at the Three Gorges power plant. China Gezhouba (Group) Corp., a central SOE responsible for this project, is best known for building the largest hydropower hub on the Yangtze River (ZHENG JIAYU)
China's centrally administrated state-owned enterprises (SOEs), or central SOEs, have been playing an integral role in China's economic and social development. Major projects like the Qinghai-Tibet Railway, the Three Gorges Project and electricity transmission from west to east China, west-to-east electricity and gas transmission, and south-to-north water diversion have all been realized with the expertise and hard work of these enterprises.
"Over the course of the 12th Five-Year Plan (2011-15), we will use every resource at our disposal to create a batch of large enterprises and groups that will compete with multinationals in the international market," said Shao Ning, Vice Chairman of the State-owned Assets Supervision and Administration Commission (SASAC) of the State Council, at a press conference on February 22 in Beijing.
This target was proposed on the basis of central SOEs' role in China's development and the country's overall development strategy, said Shao.
Through decades of reform and development the vitality and competitiveness of central SOEs have been greatly boosted. Some of them are close reaching world advanced status while some have already become world leaders.
In 2010, 30 central SOEs have been ranked among the Fortune Global 500, 20 more than in 2005. Sinopec, State Grid and PetroChina even ranked among the top 10.
Economic backbones
The development quality and economic returns from central SOEs improved many-fold during the 11th Five-Year Plan (2006-10).
When SASAC, the investor, supervisor and manager of central SOEs, was established in 2003, China had 197 central SOEs. After years of reorganization and integration, the number of central SOEs has shrunk to 121.
SASAC's data show, from 2006 to 2010, total assets of central SOEs increased from 10.5 trillion yuan ($1.6 trillion) to 24.3 trillion yuan ($3.7 trillion), with an average annual growth rate of 18.2 percent. Their assets in 2010 accounted for more than 60 percent of the country's GDP. From 2006 to May 2010, taxes paid by central SOEs totaled 5 trillion yuan ($761 billion).
By the end of 2009, 156.13 billion yuan ($23.8 billion) of state-owned shares had been transferred to the country's Social Security Fund, accounting for 41 percent of the fiscal revenues of the fund.
Central SOEs in petroleum and petrochemical, electric power, food and transportation industries have actively followed the country's economic operating schedule and have done plenty of work to ensure steady and rapid economic development, said Shao.
Central SOEs' capability of sci-tech research and development and indigenous innovation has improved during the 11th Five-Year Plan. From 2006 to 2009, central SOEs' investment in technology, growing at an average annual 28.5 percent, accounted for 2.1 percent of their revenues.
By the end of 2009, the number of total patents held by central SOEs had reached 76,138, 21,266 of which were patents for inventions. Meanwhile, 46.2 percent of state key laboratories have been established in central SOEs. Central SOEs have also designed the world fastest multiple unit trains and conducted the first trial project of ultra-high voltage and the first trial project of direct coal liquefaction in China.
Successful reform
Shao attributes the central SOEs' rapid progress to the SOE reform initiated more than two decades ago.