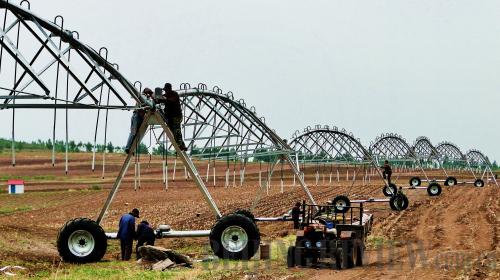 MODERN METHODS: Workers build state-of-the-art irrigation facilities in Tuquan County, Inner Mongolia Autonomous Region, in an effort to push forward modern agriculture and increase water use efficiency (LI XIN)
Farmers and the Central Government share a common New Year's resolution this year: boosting the country's grain production.
"The sowing area for grain must be kept above 107 million hectares and the grain production capacity should be further improved based on the level of 500 million tons," said Minister of Agriculture Han Changfu.
At the Central Rural Work Conference held on December 21-22, 2010, Han said the Chinese Government will continue its current round of effective measures to increase grain yield in 2011.
At present, China's total grain demand is about 520 million tons a year. In 2010, China produced 546 million tons of grain, so the goal of 500 million tons seems conservative.
And while China's grain production has maintained growth for seven consecutive years, Chen Xiwen, Deputy Director of the Central Rural Work Leading Group, said China will face major obstacles to keep this production growth high in the future. In an article on the website of the Rural Development Institute under the Chinese Academy of Social Sciences (CASS), Chen said more and more grain output comes from north China where water resources are in short supply, which in turn threatens the country's national grain security. With its existing agricultural resources and production level, China sees its comprehensive consumption level of farm produce actually surpass the comprehensive production capacity.
Moreover, in November 2010 the consumer price index (CPI) hit a record high of 5.1 percent, largely driven by increasing food prices, particularly grain prices. Increasing grain prices have not only directly raised people's expenditures on food, but also increased the production costs of food and beverage processing enterprises throughout the industrial chain, as well as the prices of meat, eggs and aquatic products through growing feedstuff costs. It also drove up fruit and vegetable prices.
Yuan Gangming, research fellow at the Center for China in the World Economy at Tsinghua University, said the supply of farm produce, such as grain and vegetables, was among the main problems facing the Chinese economy in 2010, and this problem once again shows that agriculture is still the weak point of the Chinese economy.
Climate conditions and natural disasters in recent years have brought uncertainties to China's grain production where space is already small to increase the sowing area. Because of these unfavorable conditions, redoubled efforts are called for to improve the country's agricultural production.
Stabilizing production
Shen Zhendong, an analyst of agricultural futures from Shihua International Financial Information Co. Ltd., said the Central Rural Work Conference has made stable grain production the key task for this year's agricultural work. In the meantime, policies will focus on strengthening market regulations, which reflects the government's intention to stabilize prices.
"We think that the favorable policies will further improve the development environment for Chinese agriculture and help increase domestic supplies of farm produce. Moreover, farm produce price hikes caused by inflation and growing demand will be curbed," Shen said.
Frequent occurrences of extreme weather all over the world, increasing production costs, farm produce price hikes on the international market, soaring domestic demand and strong inflation expectations all constitute the factors for domestic farm produce price hikes in the coming year, Shen said.
Government policies, Shen said, will be paramount to influencing market tendencies in 2011 to address this issue.
Looking back on 2010, government regulations were implemented throughout the entire year—from the No.1 document to the government's purchasing grain and selling reserve grain—all indicating the government's clear intention to stabilize the market. The Central Rural Work Conference also put forward that in 2011, the government will improve the circulation of farm produce and market regulations, keep prices at a reasonable level and seriously punish illegal practices, such as releasing false information and forcing up prices by speculation.
It's easy to see the government hopes to maintain market prices by stabilizing the farm produce market. If China can keep up a bumper harvest in 2011, it will be a powerful component to fighting against inflation.
Substantial contribution
Some academic sources say the Central Government's 2011 budget for agriculture will likely surpass 900 billion yuan ($135.75 billion). The new budget will be a 10-percent increase year on year, showing a steady rise in the government's support for agriculture, the countryside and farmers.
Aside from a fiscal emphasis on agriculture and the countryside, the Central Rural Work Conference also specified that fixed asset investment will be mainly used for agricultural infrastructure construction, and income from leasing land will be mainly used for agricultural land development, farmland irrigation projects and rural infrastructure construction.
Song Hongyuan, Director of the Research Center for Rural Economy of the Ministry of Agriculture, said the central budget input in agriculture and the countryside is focusing more on intensifying agricultural policies and greatly increasing production input.
As is the trend, government input in rural areas has been much lower than in urban areas. Among all fixed asset investment in 2009, only 3.1 percent was set aside for agriculture, a surprise to none since the agricultural sector is easily ignored due to its lower economic returns and weak capability to drive economic growth and increase employment.
Likewise, following the global financial crisis, the Chinese Government's 4-trillion-yuan ($586 billion) stimulus package only designated a small amount of funds for agriculture. In 2010, the growth of agricultural input was 7.4 percentage points lower than in 2009.