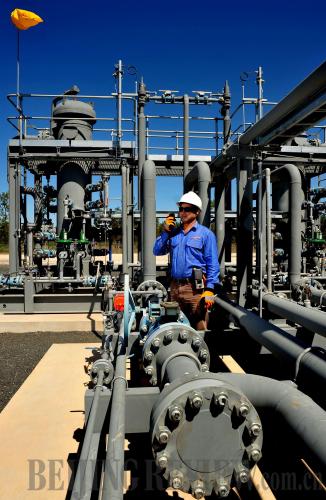 RESOURCE HUNT: An employee of the Australian coal seam gas company Arrow checks the company's facilities. Arrow was purchased by PetroChina and Royal Dutch Shell Plc. earlier this year (CFP)
With deep pockets and eyes abroad, Chinese companies are looking to expand their footprints beyond China's borders.
On November 1, the Ministry of Commerce (MOFCOM) released China's outbound investment development report for 2010, painting a favorable picture for corporate China's intentions to head overseas.
China's outward direct investment (ODI) grew 1.1 percent year on year to $56.53 billion in 2009, compared with $2.8 billion in 2003, the report said.
The investing spree comes amid the unprecedented global recession that has forced multinationals to ease back on expansions. Global flows of foreign direct investment nose-dived 37 percent to around $1.1 trillion in 2009, said the United Nations Conference on Trade and Development.
The wave has showed no signs of tapering off this year. From January to September, China's overseas investments in non-finance sectors soared 10.4 percent from a year ago to $36.3 billion, said Zhang Xiaoqiang, Vice Minister of the National Development and Reform Commission, at the opening ceremony of the Second China Overseas Investment Fair in Beijing on November 2.
In the latest of overseas investing, appliance maker Guangdong Midea Holding Co. Ltd. on October 11 announced the acquisition of a 32.5-percent stake in Miraco, an air conditioner market leader in Egypt. Midea is now the second largest shareholder of the Egyptian company and has gained access to Miraco's products, brands and markets.
Without a doubt, expansion-minded Chinese firms are quickening the pace of establishing a cross-border presence. Their solid financial grounding and a stronger yuan are paving the way for them to step onto the world stage. Moreover, the Chinese companies now have the cash to cherry-pick foreign assets, while beleaguered global giants detach themselves from failing businesses.
Merger and acquisition (M&A) deals accounted for 34 percent of the country's ODI value in 2009, said the MOFCOM report.
Policymakers have also recognized that going out is a much wiser strategy than staying home. "The government is sparing no effort to strengthen consultation services and protection for the firms heading overseas," said Chen Lin, Deputy Director of the MOFCOM Department of Outward Investment and Economic Cooperation.
China has reached bilateral investment protection agreements with 130 nations, and the MOFCOM investment promotion agency has tied up counterparts in 71 countries and regions to beef up cooperation, said Chen.
In addition, stiff efforts are also underway to enhance risk alarms and emergency responses, as well as talent training about cross-cultural management, he said.
While state-owned enterprises lead the tide of globalization, private players are quickly stepping up their games as well, noted Chen.
One case in point is the Zhejiang-based Geely Automobile Holdings Ltd., which closed a deal in August to purchase the Volvo Car Corp. from Ford Motor Co.
By expanding globally, Chinese companies will make global names for themselves and help contribute to China's economic recovery, said Chen Jian, MOFCOM Vice Minister.
"But they still have a long way to go before catching up with established multinationals," he said. "It will take time to bridge the gap in experience."
By the end of 2009, China's accumulated ODI had amounted to $246 billion, a minuscule 1.3 percent of the world's total, said the report.
The vice minister also dismissed rumors that the government handed out subsidies for state-owned enterprises to invest overseas. "Their outbound investments are completely market-driven strategies," he said. "The enterprises operate independently and are responsible for their own profits or losses."
Accumulating resources
The tide of overseas acquisitions was driven partly by China's thirst for natural resources. The MOFCOM report said 24 percent of the country's ODI last year went to the mining sector.
In the first nine months of this year, China was responsible for 49 outbound mining and metal deals, soaring 108 percent from a year earlier, said a report by the international accounting firm Ernst & Young.
For instance, PetroChina, the country's largest oil and gas producer, has teamed up with Royal Dutch Shell Plc. to jointly acquire Arrow Energy Ltd., an Australian coal seam gas company. The two established a 50-50 percent joint venture to pay 3.5 billion Australian dollars ($3.1 billion) for all Arrow stock.
"China's outbound M&A investment continues to be driven by the country's need to secure reliable sources of raw materials to support its rapid economic growth and urbanization plans," said Ernst & Young China mining and metals leader Peter Markey.