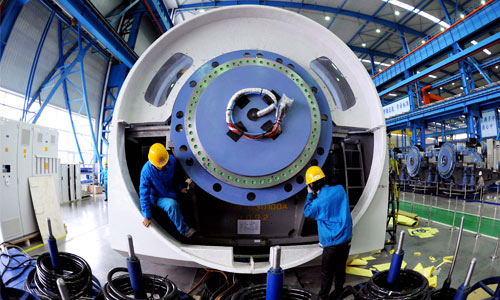 ENERGY EMERGES: Engineers in a Tianjin-based company fix a wind turbine. China is investing heavily in the new energy industry to make gains in emerging industries (LIU HAIFENG)
Despite its enhanced international competitiveness in numerous industrial sectors, China is losing its long-held labor cost advantages to other developing countries, said the annual report on China's industrial competitiveness issued by the Chinese Academy of Social Sciences (CASS) on August 22.
"New industries for which it will enjoy competitive advantages have yet to be identified and cultivated to fill the gap," it said.
China's industrial sectors are transitioning in terms of their competitive advantages—while manufactured goods have witnessed growing competitiveness globally, primary goods are losing those advantages.
To curb the decline in related industrial sectors, the report said more incentives would be needed to bolster their competitiveness.
The annual report stands out as the first of its kind in China on the country's industrial development, offering insight into both the status and development trends of the country's industrial competitiveness.
The report, initiated by the CASS Institute of Industrial Economics, was compiled by related experts on the basis of investigations and analyses of all domestic industrial sectors.
New features
Zhang Qizai, a CASS research fellow and chief editor of the annual report, said China had already witnessed a marked increase in its industrial competitiveness before the outbreak of the financial crisis in 2008.
If measured by the trade competitiveness index, the country's industrial competitiveness increased 40 percent in 2005 from 2000, and grew 60 percent in 2008 from 2005, said the report.
Some Chinese manufactured goods hold large shares of the international market. For example, China's crude steel output ranked first in the world in 2009, hitting 568 million tons, or 2.2 times the total of Japan, Russia, the United States and India. The country's shipbuilding industry now ranks third in terms of global competitiveness, while the products of the electronic and information industry occupy the largest share of the global market.
China's industrial competitiveness has been enhanced through product upgrading. In contrast to the declining competitiveness of primary products such as farm produce, fuels and minerals, the competitiveness of manufactured goods has increased remarkably, the report said.
"In retrospect, we found that quality improvements of China-made goods have helped lift the country's industrial competitiveness, if somewhat slowly," Zhang said.
This lift has exposed weaknesses in certain industries, too, and China has still to catch up with developed countries in some of its backbone industries, Zhang said.
"We chose several vital industries for comparison and found that our chemical products only hold about half of the global market share taken by U.S. products," he said.
China occupies less than 1 percent of the global aerospace equipment market, while the United States holds about 30 percent, France 20 percent, and Germany 15 percent.
In addition, the market share of China's medical products has increased slightly in recent years, standing at around one tenth of that of Germany, Belgium and the United States.
And China takes up less than 3 percent of the global auto market, although it remains a large auto manufacturer and consumer. Its global market share stands at only half of that for France and one sixth of that for South Korea, not to mention its gap with such auto giants as Germany, Japan and the United States.
Post-crisis challenges
The financial crisis resulted in drastic decreases of China's exports and created enormous pressures on its economic growth. But the government has overcome the short-term impacts through an array of effective countermeasures.
In the long run, the crisis posed new challenges to China in its effort to boost industrial competitiveness, Zhang said.