THE GLORY REVIVAL: The Grand Cinema in Shanghai, which was built in the 1920s, was reopened to audiences after an overall renovation in January 2009. The cinema had been the country's top one in terms of box office revenues for 11 years (PEI XIN) 
If the 2002 domestic blockbuster, Hero, directed by Chinese director Zhang Yimou, inspired more Chinese directors to pursue commercial successes with homegrown stories, the Shenzhen listing of Huayi Brothers Media Corp. Ltd. last October is encouraging many top domestic studios to capitalize on their businesses.
China's movie industry has flourished in the past seven years, thanks to the consolidation of the state-owned studio and distribution system, with domestic box office revenues hitting 6.21 billion yuan ($909 million) in 2009 from roughly 1.5 billion yuan ($219.6 million) in 2004, a growth of more than 30 percent annually.
Still, many industrial observers look forward to the long-expected movie industry legislation, considering its absence the biggest obstacle to the industry's further prosperity in the domestic market.
The latest development came on January 25 when the State Council put forward a guideline featuring 10 measures to boost China's movie industry. While encouraging more state-owned or state-controlled studios to seek public listing, the guideline pledges to expedite related legislation efforts to develop the industry.
Other measures addressed common problems facing domestic movie producers and distributors, such as difficulties in acquiring bank credit, shortages of professionals for movie productions and screen numbers nationwide, especially in rural areas.
The guideline supports easier access to financial services and diversified investments for domestic studios. Chinese studios are also encouraged to cooperate with their overseas counterparts to become global players.
"Capital accumulation through business expansion is the top priority for domestic movie studios now because the size of the domestic market is not big enough to create a Chinese counterpart of, say, Walt Disney Pictures," Wang Zhongjun, Co-president of Huayi Brothers, said.
A fledging market
China embarked on an all-around industrial development campaign of its movie sector in 2002 when the country doubled its imports of foreign films to 20, as required by its WTO membership.
That year, as part of its reform of the old state-planned studio system, the country allowed private capital to be spent on independent movie productions, and introduced a new distribution and screening system to replace the old one where the China Film Group Corp. (CFGC) enjoyed a monopoly and cinemas cheated on box office statistics.
The new system gave birth to more than 30 domestic movie distributors. Cinemas nationwide are required to join with a distributor before being permitted to show each film. Movie producers negotiate with distributors for screening schedules and box office profits are split between producers, distributors and cinemas. Cinemas must have ticket terminals in order to get their share of box office revenues.
The measures ensure an effective distribution of domestic films and accurate box office statistics nationwide. Movie production after 2002 is no longer guided by "targets" set by the government on the number and content of movies, but is "more of a question of what was needed and what people wanted," according to Tong Gang, Director of the Film Bureau at China's State Administration of Radio, Film and Television (SARFT).
After seven years of development, local studios are stronger than ever before—genres produced by these studios accounted for 56.6 percent of last year's total box office revenues.
SARFT statistics said in 2009, China produced 456 feature films, up 50 from the previous year, in addition to 27 animated films, 19 documentaries, 52 popular science films, and 110 digital movies screened on TV.
The country launched 142 new cineplexes and 626 screens last year, putting the total number of cineplexes and screens under 34 distributors nationwide at 1,670 and 4,723, respectively by the end of 2009. About 80 percent of the 626 new screens are digital.
More screens
But 4,723 screens are far from enough to meet the demands of China's 1.3-billion population. The United States alone, with only one third of China's population, boasts 40,000 screens.
As movie production studios grow stronger, as in the case of Huayi Brothers, the movie industry will become a contributor to greater economic growth, but the limited number of cinemas could inhibit further expansion of the industry, said Gao Jun, a manager of Beijing-based distributor, New Movie-Alliance.
According to Gao, cineplex construction in second-tier markets will be a highlight in the coming years because cinemas are absent or few in number in the country's large number of small and medium-sized cities.
Because of the inadequacy of available screens, distribution and cinema investments yield more stable revenues for domestic studios than the final movie product itself. Aside from producing films, large studios, such as CFGC, Shanghai Film Group Corp. (SFGC) and Beijing Polybona Film Distribution Co. Ltd. all have distribution systems and cinema investment in their business portfolios.
The wholly owned cinema investment division of CFGC currently has invested in more than 20 cineplexes. By 2011, that number is expected to reach 50. Polybona launched its first cineplex in Beijing's You-town Shopping Center and will build 20 more in three to five years.
In order to deliver better performance in terms of its business stability, risk-proof capacity and cash flow, Huayi Brothers, which used to adhere strictly to the business of movie production, recently announced its plan to build six cineplexes in two years and 15 in five years.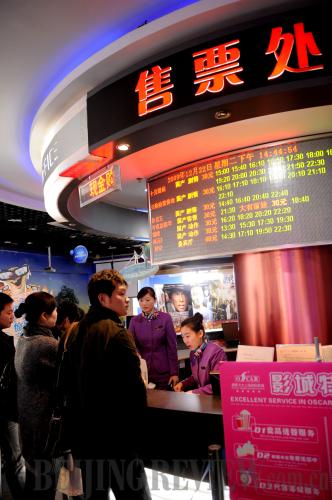 BOX OFFICE HARVEST: Audiences are buying tickets at the Henan Oscar International Cinema-Zhengzhou on December 22, 2009. China's movie industry has reaped the greatest harvest in 2009, thanks to the vitality injected into the market through a series of reforms (ZHU XIANG) 
Unlike other distributors that operate chain cinemas in a franchise, Dalian-based real estate developer Wanda Group Co. Ltd. has built 50 cineplexes under its name. The Wanda cineplexes nationwide generated 15 percent of the country's total box office revenues, making Wanda the largest distributor last year.
The burgeoning movie market has attracted overseas investments as well. Last year, Entertainment Properties Trust (EPT), a U.S. real estate investment firm, coupled with the SFGC to develop multiplex theaters throughout China. Hong Kong's dominant studio, Golden Harvest Entertainment (Holdings) Ltd., started to build theater properties in south China's Guangdong Province in 2005.
The guideline also promotes development of large cross-region movie distribution brands, and special-purpose and digital cinemas. The special-purpose cinemas would show specific films, such as art house films in contrast to blockbusters, or cater to certain audiences, such as seniors or children.
"We have to cultivate audiences for these special-purpose cinemas before we start construction," said He Yingbin, a manager of Chongqing-based Poly Wanhe Cinema Co. Ltd.
Domestic studios, according to He, are generally weak in developing derivative products and rely heavily on box office revenues. Due to box office guarantees and limited screenings, cinema managers deliberately shun art films while favoring moneymaking popular genres.
The market leaves room for consolidating the current 34 distributors with cinemas nationwide—cinemas under the top six distributors contributed 65 percent of the national box office revenues last year.
Easier financing
The guideline supports state-owned or state-controlled studios to pursue listing plans through restructuring, while encouraging banks to offer stronger financial support to studios.
"CFGC will take advantage of this opportunity to get rid of the restrictions of the old system and become a competent player," Wen Li, a spokesman for CFGC said.
In recent years, bank credit and professional funds have replaced property developers and mine owners to be the mainstream investors in China's movie industry.
Huayi Brothers was the first to receive credit from commercial banks in China. Although copyright mortgage is a common practice for studios to attain bank credit overseas, domestic banks disagree with copyright owners about the copyright's value and risks. Wang of Huayi Brothers was required to shoulder unlimited personal liability with his personal properties when the studio applied for a bank loan worth 50 million yuan ($7.32 million) from China Merchants Bank for production of the 2006 blockbuster, The Assembly.
Domestic banks nowadays prefer studios with mature brands to individuals and separate projects because of the high risks associated with movie production. Last December, China Minsheng Banking Corp. Ltd. contracted unsecured loans to 23 known domestic TV directors, 5 million yuan ($732,064) for each, and entrusted a professional investment company with the management and supervision of the loans.
Apart from banks, venture capital funds, TV stations and new media companies all poured investment into movie studios. While TV stations focus more on resource sharing with movie studios, new media companies bring experience in dealing with professional funds and venture funds focus more on returns from their investments.
For example, with two rounds of venture capital investments worth $24.64 million, Polybona is ready for an initial public offering on the New York Stock Exchange later this year.
But the market has yet to be standardized and the investment eco-system improved.
Wang Ran, CEO of China E-Capital Corp. Ltd., which helped Polybona in its second round of fundraising, said the lack of agencies specialized in movie production supervision in China's movie industry prevents investments from more professional funds.
"Investors can only rely on their judgment of producers' integrity and credit without movie completion bond companies to monitor and manage the risks," Wang said.
But Wang of Huayi Brothers said the current domestic movie market is not big enough to have a completely secured financing system.
"Financial talents are expensive. I believe a lot of them would like to provide such a guarantee and supervisory services when China's movie market generates 50 billion yuan ($7.32 billion) at the box office annually," he said.