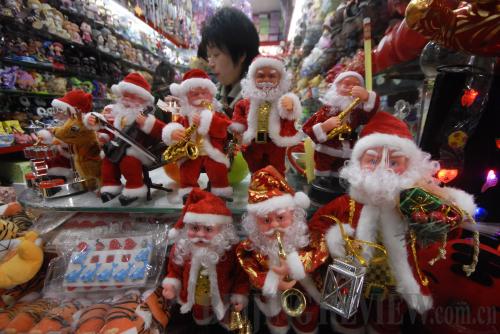 THE CHRISTMAS MAN: Santa Clauses of all sizes are a popular holiday purchase in Beijing's Tianyi Wholesale Market. More Chinese are embracing the Western holiday for gift giving and celebration (LIU XINLIAN) 
A Beijing netizen using the online screen name Da Qi and a group of his Web friends had big plans to celebrate the holiday season—an evening of singing and laughing at a karaoke club the night before Christmas. But before Da Qi's Christmas festivities could begin, the plan fell through. While a karaoke room at the club usually costs 300 yuan ($44.10) for four hours, the price had been jacked up to 1,200 yuan ($176.50) for three hours for the Christmas season, forcing Da Qi and his friends to cancel their plans.
"We had expected a price change, but we didn't expect it to be so high," Da Qi said in an outdoor activity website post.
Da Qi was not alone in his frustration over price fluctuations in the run-up to Christmas. When Yang Le, a university student from Wuhan City, capital of Hubei Province, went to the flower market to buy a gift for his girlfriend, he found red roses for sale at 3 yuan ($0.44) a piece, a 30-percent increase from the previous week.
"It's not uncommon for the price of roses to go up before the holidays, since many people usually send flowers to their loved ones as a gift for Christmas," Yang said.
Many university students took advantage of the holiday buying season to sell roses and other assortments of flowers in public places to earn some extra money.
In the more than 30 years since China's opening to the outside world, the Chinese people have been embracing the most important holiday in the Western calendar year. As Christmas draws closer each year, snowflakes, Christmas trees, reindeer-driven sleighs and a wide variety of ornaments decorate department stores. The air is filled with the tunes of Christmas carols old and new and Christmas-related goods are strategically placed in eye-catching locations throughout most commercial venues.
But more so than spreading the Christmas cheer, the festival, among other holidays throughout the year, presents a golden opportunity to promote sales, said Qin Kang, marketing director of a Beijing-based department store.
Christmas economy
Not knowing or recognizing the religious origin of Christmas has not stopped the Chinese people from celebrating the global gift-giving holiday.
A social-networking website, 9991.com, arranged for young people, who work in Beijing away from their families, to celebrate Christmas Eve together.
"In order to find new friends in this big city, we shall dine, sing and go out together on this special night," said the online post.
According to a survey conducted by Beijing-based weekly Life Style, more than 90 percent of young respondents said they would celebrate Christmas and 37 percent made preparations for Christmas similar to their New Year's Day and Spring Festival plans.
Young Chinese do not celebrate the foreign festivals in a religious sense, but rather try to seize this opportunity to relax instead, said Wang Zuoji, an expert on folklore.
Santa Clause's arrival is not focused on family get-togethers, as many young Chinese spend the holiday with friends and companions, which increases the chances that they will spend more money.
"I spent Christmas Eve with my boyfriend," said Chen Yi, a 26-year-old Beijing woman. "We had dinner at an Italian restaurant, then saw a movie at the cinema."
The dinner was not cheap, compared to Chinese standards, and a reservation was required to guarantee a table, Chen said.
"If you don't book early, you won't be able to find a table in some popular restaurants on Christmas Eve," said Chen, who made reservations for the Italian restaurant half a month in advance.
The same applies to movie theaters, as tickets were all but sold out on Christmas Eve, Chen said.
According to the New Film Association, a Beijing-based cinema company, over 5 million yuan ($735,294) worth of tickets were sold on December 24, 700,000 yuan ($102,941) more than on Christmas Eve in 2008.
Audiences began queuing in front of the ticket office around 3 p.m., said General Manager of Changhong Cinema Yu Chao.
"Ticket sales totaled 150,000 yuan ($22,059), an all-time high since we opened in 2005," Yu said.
Much like their Western counterparts, businesspeople in China spared no effort enticing customers to spend more for Christmas, many offering special promotions. The Beijing Zhongyou Department Store offered 55-percent discounts leading up to Christmas in most shops and also set aside two floors exclusively for discounted products.
The Shanghai Brilliance Outlets Plaza offered 20-percent discounts for customers in addition to lucky draw prizes. The plaza recorded a sales volume of 11 million yuan ($1.6 million) on December 24, 60.96 percent higher compared with last year.
According to the Wuhan-based Chutian Metropolis Daily, Wuhan Plaza sold 5 million yuan ($735,294) worth of gifts per hour on Christmas Eve. The plaza's total sales volume reached 50 million yuan ($7.4 million), 50 percent higher than last year.