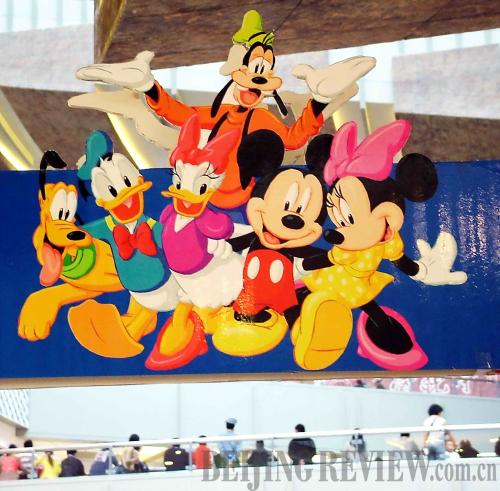 HELLO, SHANGHAI: Shanghai citizens look at a huge ad showing Disney characters. China has approved plans to build a Disney theme park in the city (CNSPHOTO)
The mouse population will be on the rise in Chuansha, a relatively unknown town in the Pudong District of Shanghai Municipality, as the famed Walt Disney Co. character Mickey Mouse establishes a new home in China. Disney received a nod of approval from the Chinese Government earlier in November to build one of its world-acclaimed theme parks in Shanghai, the first park on China's mainland.
After news was released about a Disney theme park arriving in Shanghai, a piece of land in Chuansha New Town was sold at a record high of 1.19 billion yuan ($175 million) at a land auction. Several stocks related to the Disneyland venture became hotspots for market speculation.
Amid the hype surrounding Shanghai Disneyland, Euro Disney's latest report was less than enthusiastic. The France-based Euro Disney S.C.A. suffered a net loss of 63 million euros ($93.5 million), for the fiscal year ending on September 30, compared with a loss of 1.7 million euros ($2.54 million) a year earlier. Revenue fell 7 percent to 1.23 billion euros ($1.84 billion). Hong Kong Disneyland has similarly met shortfalls, after failing to realize profits of any kind since its opening in 2005.
A popular mouse
Since the first Disney theme park was opened in California in 1955, its presence has expanded to America's southern state of Florida, Tokyo, Paris and Hong Kong.
Wherever Disney goes, it demonstrates itself as more than just a theme park. In the late 1990s, the Disneyland Park in California was expanded into a greater vacation resort development comprising a theme park, shopping centers, dining and entertainment complexes and hotels.
In a more general sense, Disneyland has been considered a vital engine propelling the development of other related industries, including tourism, movie production, media, toy production, and franchise operations.
"Disneyland, a tourist brand with world recognition, will entice tourist accommodations to surround it," said Liu Jiajun, the General Manager of Shanghai-based Starway Hotel Management Co. Ltd.
Tourists from the Yangtze River Delta and even north and central China will be likely to prolong their stay in Shanghai due to the charm of Disneyland, he also said.
The general rule of the exhibition industry is that 1 yuan ($0.15) in ticket revenue will produce related consumption worth 8 yuan ($1.18), said Yang Zhouyi, General Secretary of the Pudong Academy of Development, the top think tank for the Pudong District. If Disneyland Shanghai sets its ticket prices at 300 yuan ($44, almost the same as the price of Hong Kong Disneyland) and has 4 million visitors every year (Hong Kong Disneyland saw 5.3 million visitors in its opening year), the theme park will increase the GDP of Shanghai by more than 1 billion yuan ($147 million).
According to the research report released by Industrial Securities Co., Shanghai Disneyland will have an annual visitor volume of more than 10 million and bring opportunities for the development of tourism, hospitality, retailing and transportation industries.
The international entertainment giant selecting Shanghai as the sixth destination for its theme park shows the company's confidence in the Chinese economy, which will influence other overseas investors, said Liu Simin, a research fellow with the Tourism Research Center of the Chinese Academy of Social Sciences.
Investment return anxieties
With the completion of Shanghai Disneyland, China will be the first country to host more than one Disneyland. Amid the profit frenzy and hopes for commercial and industrial growth brought by the little mouse from overseas, doubts and uncertainty also arose.
Shanghai's local newspapers reported that it will cost 24.4 billion yuan ($3.6 billion) for the first phase of construction of Shanghai Disneyland. Disneyland had long been regarded as the most expensive theme park in the world, especially compared to its profitability.
To date, out of the three overseas Disneylands in the world, only the Tokyo park has seen profits. Although Hong Kong Disneyland had to put an admittance limit on its visitor volume, its profits have not amounted to anything substantial for the Hong Kong Special Administrative Region (SAR), one of the major shareholders of the project. According to the company's annual report, the Hong Kong SAR has not received any dividends from the project since its launch in 2005.
According to Philippe Gas, CEO of Euro Disney S.A.S., the company witnessed "certain fundamental changes in consumer behavior" as vacationers booked at the last minute, sought promotional offers and stayed close to home.
Although the large population on the Chinese mainland may provide a rich tourist base for Shanghai Disneyland, the much lower consumption capability of the Chinese, compared with their European and Japanese counterparts, leaves profitability hopes in doubt.
Targeting children as its major visitors, Shanghai Disneyland will hardly attract the millennium-born generation, which has not developed a close link with the classic Disney cartoon characters.
"I doubt whether Chinese children will be interested in the septuagenarian and octogenarian Mickey Mouse and Donald Duck," said Shi Jianxiong, a professor at the School of Economics and Management of Tongji University.