During his trip to China late last month, Michael Dell, Chairman and CEO of American computer maker Dell Inc., unveiled the company's anti-crisis enterprise computing solution. It includes 14 new products to help customers cut costs and complications while improving efficiency. At the same time, Dell introduced the company's new Adamo brand, the world's thinnest laptop.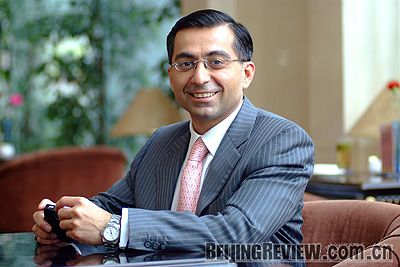 CORPORATE VETERAN: Amit Midha, President of Dell Greater China, says the company's business in China is growing faster than the overall computer industry here 9COURTESY OF DELL) 

The introduction of new products in China is one of the ways in which Dell has sought to emerge from its midlife crisis. The company's lack of product design innovation used to be the focus of most media criticism, but Dell himself promised to change the stereotype when he resumed the position of CEO on January 31, 2007, and pledged a strategic overhaul of the company.

As part of the overhaul, the company has reshaped its culture, moved its design function to Asia in order to better reflect customers' needs, made its products available in retail stores, and streamlined its operations worldwide.

In its latest move, Dell divided its global business into four groups in order to better serve its customers-a large enterprise group, a public group, a small and medium-sized business (SMB) group and a consumer group.

The world's second-largest personal computer (PC) maker has already seen some returns on its efforts. Dell's revenue hit $61 billion in 2008, and its profit reached $3.6 billion. Dell's unit shipments increased 28 percent in China last year. The company posted an overall increase of 34 percent in the number of units shipped in the BRIC countries--Brazil, Russia, India and China--a market that still offers a bright spot despite the global slowdown.

At a Beijing news conference last month, Michael Dell said his company saw a trend of stabilization in the demand for IT products in January and that it would be cautious about spending the $9.5 billion it has in cash. Dell could look for potential acquisition targets in data centers, servers and storage products providers, he said. Currently, the company derives half its revenue from non-PC products.

Amit Midha, Dell Greater China President, talked with Beijing Review about the effects of Dell's strategic overhaul and the company's strategies in its second largest market.

Beijing Review: Which of the strategic overhaul efforts has proved to be the most effective in enhancing your performance worldwide and in China over the past two years?

Amit Midha: Fundamentally, we have to make two changes in our culture-a culture we have to change in order to be much faster in decision-making. We have to bring about a culture of product innovation and a culture of cost-focus again. A lot of these things have made Dell famous and successful in the past, but as we looked at the business two years back, our cost structure was not competitive, and our products were not aligned with the market needs. Michael has introduced a much better cost structure focus. That has been leading us to have a significant contraction around the world, including China.

We had done a significant overhaul of our business model in order to be a lot more customer-focused, innovative and competitive. In China, we made decisions much faster. We have a brand new product line, Studio; Adamo, the latest launch; as well as the value product, Vostro A-Series, which is clearly designed for China and emerging market needs.

Dell is now moving beyond direct sales to a strong retail presence. How many PCs did you sell in retail stores in the United States and China last year?

Before Michael joined, we had zero presence in retail stores. We are now in more than 5,000 stores in China. He is the one who said "direct model" was the revolution, but is not the religion, which means direct model gives great value to customers, but it's not the only way we serve the customer. We can serve customers in multiple ways. Dell's PC sales volume through retail stores is growing significantly, and setting a benchmark every quarter. In China, as much as 70 percent of our sales happen now through IT malls and retail stores, but in the United States, it is less than 30 percent.

What were the adjustments Dell made to its product strategies in China and worldwide because of the financial crisis?

Everybody is saying a few things about how to use the existing infrastructure better. That's why you have to simplify, make it competitive and cost-efficient. That's why in enterprises we have a strategy of virtualization. Virtualization lets you leverage your infrastructure for multiple needs. The other aspect of how to use the existing infrastructure to be more competitive is having more availability for more cost competitive products, which is what we have done with the Vostro-A series and other multiple product lineups. Today customers can buy a notebook for about 3,500 yuan ($512.4). That was only possible because Dell launched a cost competitive product group line. Then the third aspect is how customers can use the IT infrastructure to differentiate the marketplace so they can start to grow. The good thing is that although the export-driven economy in China was impacted, the domestic economy continues to grow well, and the government has a stimulus plan to help the country as a whole to grow. In that regard, a mainstream category within China still continues to do well. That's why we launched a Studio lineup that is colorful, exciting and medium-driven. This is why our Inspiron lineups continue to do well.

Dell wants to regain the Number one PC-maker crown. What have you done and what will you do to recover it?

Our market share position is good, but it is not the goal we drive our business forward. Fundamentally, our focus is to make sure that we serve the customer well. That's the first objective. Our prime concern is our customers, our employees and our shareholders. In China, we also believe the government is a big stakeholder in our success, so we have to make sure we are providing all the necessary ingredients for Dell to contribute to building the Chinese nation. For example, Dell directly and indirectly created 2 million jobs in China.

Becoming Number one focuses on serving customers well. The things we are doing to make our company competitive are the same things that will make us Number one in the future, such as the empowerment culture, a solution that saves customers' money, and having a scenario where we are leapfrogging our customers' needs and launching our products ahead of time.

Dell was late to the low-cost laptop party and just launched its third model, the Inspiron Mini 10. Will Dell introduce more low-cost laptop models to compete with Hewlett-Packard, Lenovo and ASUSteK?

We actually launched the first cost-competitive product for emerging markets two years ago so we could test the markets. After that, we learned that we had to have different manufacturing and distribution strategies, and design the products very differently. But doing each one of these takes a long period of time, and unless you do all three together, you cannot be successful in this particular market.

What has happened since then is that all designs have to be done in Asia. The whole product design for low-cost products is done here. For manufacturing, we moved our Dell factories to original design manufacturer factories. On the distribution side, we have signed up partners. We have to take the time, but I don't think we are late to the market. We are choosing to invest in all three areas before we become a huge player in this market.

Does Dell expect a boost in PC sales in China because the company was included in the list of brands eligible for sale under China's rural stimulus program?

We have 15 products selected for rural areas, most of which are notebooks. We are still working with the team to see how we can continue to be successful through the program. Customers are going to see a great value in Dell's brand, design and quality.

One of Dell's ongoing goals is to grow faster than the market and the industry. But is it a goal much harder to attain amid heated competition and the global slowdown today?

Since the industry is shrinking, it's very easy for us to grow much faster than the industry, but it's very difficult for us to grow in absolute numbers. We are continuing to grow faster than the industry in China. First of all, in terms of geographical expansion, we still haven't covered the entire nation, and we still have a lot of geographical expansion opportunities. Second, our partners have launched their channel programs, and there are still significant opportunities for us to grow. Third, we are still bringing new categories of innovative products. We are expanding our product lines, our geographical coverage and our partners.

It was reported that Dell expects its Asia revenue to fall this year, but it still expects to pick up share in China's PC markets. What will generate the revenue increase in China?

The International Data Corp. predicted the Chinese PC market might grow 2-8 percent this year, and we will grow relatively in this market. Notebooks are our big portion now. Notebooks are the fast-growing category in all markets. Clearly notebook success makes all the difference. We have to make sure in all different-sized markets we have competitive products.

Will Dell's cost-cutting plan involve headcount reductions or operation cuts in its Greater China region?

We are reviewing and evaluating every aspect of our business to make our cost structure more competitive, including marketing and advertising budgets. If the market grows in China and we grow, we don't have to cut expenses. We are now in the middle of an economic cycle that has been extremely unpredictable. We are watching and reacting, just like everybody else.