There are no permanent friends in the world, only perpetual interests. This is the first lesson that many Chinese bankers are learning in the new year as their once-committed foreign "strategic partners" are cashing out on them.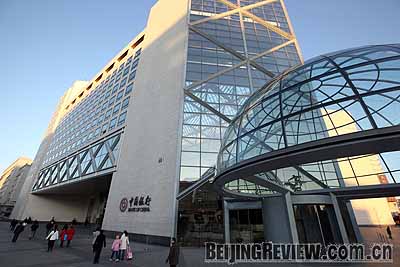 BANKING STABILITY: The Bank of China Ltd., has played down the impact of its foreign partners cashing out, and pledges further cooperation with them (GAO XUEYU)

In the latest move of the unwelcome trend, the Royal Bank of Scotland Group Plc (RBS) on January 13 sold its 4.26-percent stake in Bank of China Ltd. (BOC) for about $2.4 billion. RBS paid 800 million pounds ($1.17 billion) for the shares in December 2005 and was able to sell them after its three-year lock-up period ended last December.

Analysts say the sell-off was not unexpected, because the RBS has been struggling to patch up its balance sheet, which has been heavily battered by the global financial turmoil. The bank, now 57-percent owned by the British Government following its bailout last year, has to raise more cash to buck up the shaky British economy, they said.

Of course, the RBS is not alone in the scramble of foreign banks to sell off its shares. The embattled Swiss bank UBS AG recently dumped its 1.33-percent stake of BOC in an attempt to replenish its balance sheet. In another move, Bank of American Corp. (BOA) sold its more than 5.6 billion shares of China Construction Bank Corp. (CCB) on January 7, reducing its stake in the bank to 16.6 percent from 19.1 percent.

Foreign banks such as the RBS and BOA got a rare chance to buy into the major Chinese commercial banks in 2005 and 2006 ahead of their initial public offerings. In return, they pledged to teach their Chinese partners how to operate profitably and risk-free and introduce advanced management expertise.

Nowadays, investor concerns are growing that more arbitrage plays by Western banks may be on the way as the financial crisis escalates and the earnings growth of companies on the Chinese mainland slows. Some investors are even betting that the Industrial and Commercial Bank of China Ltd. (ICBC), the world's largest bank in terms of market value, will be the next target for sale. Goldman Sachs Group Inc., Allianz SE and American Express Co. own a combined 7.3-percent interest in ICBC, and their lock-up periods on selling their shares will expire this year. So far, ICBC's foreign shareholders have declined to comment on whether they will sell part or all of their stake.

Not total abandonment

But economists do not believe that foreign investors are totally abandoning China's banking sector, which still enjoys good prospects despite the current downturn. Instead, they are cashing out because they sorely need funds, not because of any problems with their Chinese partners, said Lian Ping, Chief Economist at the Bank of Communications Co. Ltd., in a report. China's banking sector, relatively insulated from the global turmoil, would still be a hotbed of investment that could generate juicy returns, he added.

Guo Tianyong, a banking professor at the Central University of Finance and Economics in Beijing echoed Lian's sentiments.

"It's a makeshift solution for the straitened foreign banks to sell their stakes in such a turbulent global financial environment," Guo said in an interview with China News Services. "In striking contrast, those with solid financial footings have held on to their footprints in China."

Both Singapore's state investment agency Temasek Holdings Pte. Ltd. and the Hong Kong and Shanghai Banking Corp. (HSBC) recently have pledged not to join in the divestment scramble. Temasek holds a 4.1-percent stake in BOC, and HSBC has a 19-percent stake in Bank of Communications Co. Ltd.