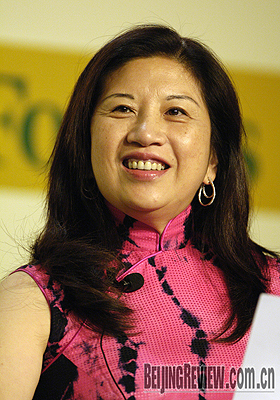 MY PRIDE: Marjorie Yang, running her family business successfully, is regard by her father as his pride 
Marjorie Yang, Chairwoman of the Esquel Group, says the Hong Kong-based producer of premium cotton shirts does much more than simply make apparel. It also has made a serious commitment to corporate social responsibility and sustainable growth on the Chinese mainland.
As one of the first companies to adopt a corporate social responsibility program on the mainland, the 31-year-old company features vertically integrated operations, from producing cotton, buttons and packaging to shirt design and manufacturing. It emphasizes both creativity and ethical business practices during the processes of producing and spinning cotton, weaving and dyeing fabric, manufacturing and packaging garments, and selling its products.
Esquel Group's nearly 50,000 employees worldwide adhere to a "Five-Es" corporate culture-ethics, environment, exploration, excellence and education. Sustainable growth is a company goal rather than a business slogan, and Esquel has demonstrated its commitment to corporate social responsibility throughout its business practices for more than a decade since it first started the program.
Thanks to its outstanding performance, Esquel has won numerous awards from governments, associations and business partners for its high-quality products, fulfillment of social and environmental responsibilities and technological innovations.
Five-Es culture
The essence of the "Five-Es" culture is that the company believes Esquel can be a catalyst for change in the industry by fulfilling its commitment to ecology, its employees and the community, Yang said. Esquel strives to be an honest, reliable and trustworthy company, especially at a time when products made in China face a confidence crisis in European and American markets, she said. Esquel is a founding member of the United Nations' Global Compact initiated in 1999 by former UN Secretary-General Kofi Annan. The Global Compact asks companies to adopt 10 principles in the areas of human rights, labor standards, the environment and anticorruption.
Nine of Esquel's 10 apparel-manufacturing factories have been certified under the Worldwide Responsible Apparel Production (WRAP) standards. It is also one of the first 10 companies in the textile and garment industry to support the China Social Compliance standard (CSC9000T). These have won the company more orders and helped it to cut costs related to repeated factory inspections by overseas purchasers.
The company's good reputation has won the group advantages in recruiting outstanding employees, Yang said. In turn, they have offered Esquel brilliant ideas in pursuing its vision of being a responsible, trustworthy and eco-friendly company.
Feng Wenyuan, for instance, obtained his doctorate in autonomous control engineering and is now head of the engineering department at the Xinjiang Esquel Textile Co. Ltd. He is leading a team working on a cooling water circulating system, the 12th alteration project Feng has supervised to improve energy efficiency. He says he is most proud of his boiler alteration project which, taking three years to complete, has enabled smoke-free emissions and increased coal-burning efficiency by 20 percent. It also reduced the factory's annual coal consumption from 4,000 tons to 2,800 tons. These projects have cut the company's operation costs by about 1 million yuan ($147,000).