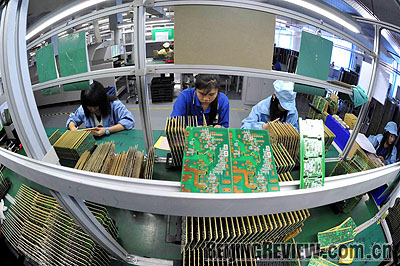 GOVERNMENT AID: The Shunde District Government in Foshan, Guangdong Province, earmarks 50 million yuan in loan guarantees for SMEs, including Shunde Real-Design Electronics Industrial Co. Ltd. pictured here (ZHUANG JIN)
After a concerted effort to crack down on underground private banks that provide many small and medium-sized enterprises with financing that they cannot obtain elsewhere, the government is switching tack and legalizing the banks to help companies legitimately obtain capital.
According to a release from the Information Office of the People's Bank of China (PBC), the draft of the Regulations on Moneylenders formulated by the central bank is now under discussion by the Office of Legislative Affairs of the State Council. The most significant part of the regulation is that it would allow individuals to lend money at interest after they register with appropriate government authorities.
Lending money at interest by individuals has long existed in China and has become more active in recent years as it has gotten harder for small businesses to obtain loans from regular banks. But such lenders, known as "underground private banks," are illegal in China and have been subject to government crackdowns. No one knows the exact scale of the country's underground private banks, nor does the PBC. Some scholars estimate that in the last three years, the capital that SMEs have obtained from underground banks have accounted for 10-20 percent of the total funds they have raised.