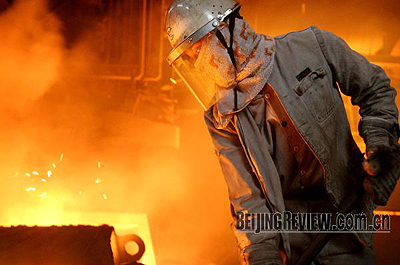 The Chinese Government is once again shutting down unproductive plants in tune with its green policy and the march toward sustainable development. This time it's the iron and steel industry to feel the brunt of the Chinese Government's stringent measures. The deafening buzz of factory floors have ground to a whisper as 573 iron and steel companies in 18 provinces, autonomous regions and municipalities turned off their lights for the last time recently. In the process China's iron- and steel-making capacity will be reduced by 49.31 million tons and 36.1 million tons respectively if targets set for 2020 and the elimination of all outdated production facilities in this industry are reached.
On December 27, 2007, the National Development and Reform Commission (NDRC) signed responsibility pledges with the 18 provinces, autonomous regions and municipalities who are in the process of carrying out their commitments.
In April 2007, the NDRC signed responsibility pledges with 10 other provinces and autonomous regions to eliminate outdated production facilities in the iron and steel industry. Altogether, there are 28 provincial-level governments who have signed such responsibility pledges with the NDRC, almost covering all provinces, autonomous regions and municipalities involved in the iron and steel industry.
According to statistics released by the NDRC, in November 2007, China produced 39.69 million tons of steel and 39.9 million tons of iron, decreasing 3.23 million tons and 0.94 million tons respectively over October. This also represented respective growth rates of 4.3 percent and 10.4 percent over those in the same period of 2006, the lowest in recent years. Slowdown of iron and steel output growth indicated initial effects in the elimination of backward production facilities.
Energy and emissions
The reason the government is shutting the doors of these targeted companies is their small production capacity, low efficiency rates, but high pollution levels.
According to Ma Kai, Minister in charge of the NDRC, China has become one of the largest crude steel producers and the largest iron and steel consumer in the world. However, China's iron and steel industry is highly dependent on resources with high energy consumption and serious emission of dust, also leading to deteriorating shortage of water resources.
The NDRC figures show that the total volume of China's GDP is only 4 percent of the world's total, but its energy consumption in the iron and steel industry accounts for one third of the world's total industrial energy consumption. The comprehensive energy consumption of steel per ton in China is 15-30 percent higher than world advanced levels. Among all the industrial pollutant emission in the country, the iron and steel industry discharges 10.75 percent of waste water and 5.6 percent of sulfur dioxide, posing a serious threat to resources and the ecological environment. "Therefore controlling the total production capacity, eliminating backward production facilities and speeding up structural readjustment represent the focus for the work of China's iron and steel industry at present and in the future," said Ma.
According to Ma, in 2007, China produced 465 million tons of pig iron, up 12.42 percent year on year. Of the total, 20 percent were produced by small iron and steel mills whose energy consumption is 50 percent higher than that of large companies and whose pollutant emission even doubles that of large companies.
The aim of the NDRC is that by 2010, some 89.17 million tons of outdated iron-making capacity and 77.76 million tons of outdated steel-making capacity will be eliminated.
The pledges signed in April 2007 aimed to eliminate 37.06 million tons of outdated iron-making capacity and 38.2 million tons of outdated steel-making capacity in total. However, the goal for eliminating 29.4 million tons of iron-making capacity and 15.21 million tons of steel-making capacity by now has not been met.
The legal basis for the NDRC to close up poorly performing production facilities include the Law on Prevention and Control of Atmospheric Pollution, the Law on Prevention and Control of Water Pollution, the Law on Prevention and Control of Environmental Pollution by Solid Wastes, the Law on Promoting Clean Production and the Production Safety Law.
Compared with administrative measures adopted in the past, using the law to cut back on ailing production facilities is more easily accepted by the companies involved.
Market influencers
Qi Xiangdong, Executive Deputy Director of the China Iron and Steel Association (CISA), says that because of the rapid development of the Chinese economy, demand of iron and steel won't drop. It is estimated that in the next three years, China's demand for crude steel will increase by at least 40 million tons every year. Meanwhile, under the circumstance of eliminating backward production facilities by the state, expansion of production capacity of the iron and steel industry will slow down, but the utilization ratio of the production capacity will be improved.
Prices of rolled steel will remain stable with a slight increase. According to CISA statistics, 10 percent of the total production capacity in China's iron and steel industry is outdated. If such production capacity is thoroughly eliminated as scheduled, supply of pig iron will be tighter and prices will continue to go up.
Huang Jing, researcher at the United Securities Co. Ltd. (USC), said that domestic supply in 2008 will be smaller than demand and that prices of rolled steel will remain high and see increases in the long term.
"Since 2007, monthly growth of pig iron output had decreased month by month, indicating that elimination of outdated production facilities was in progress. We believe this trend will continue and speed up in 2008, and growth of supply is expected to reduce greatly," Huang said.
According to Huang, statistics show that in 2008, the iron-making capacity and crude steel production capacity will increase 49 million tons and 51 million tons respectively. If the set goal of closing up outdated production facilities is reached, 11 million tons of crude steel in 2007 and 24 million tons in 2008, only 27 million tons of production capacity will be actually increased in 2008. On the other hand, the fixed asset investment is estimated to grow at least 25 percent, which will strongly push consumption of rolled steel.
In USC's estimation, the output of rolled steel will reach 606.72-630.72 million tons in 2008, up 7.4-11.7 percent over the previous year. Domestic consumption of rolled steel is expected to reach 607.39 million tons, a year-on-year increase of 16.8 percent.
Loopholes
The price hike of rolled steel on both domestic and international markets hinders closing up of outdated production facilities.
In 2007, price growth of rolled steel in China exceeded 20 percent. At present, many iron and steel companies are owned by local governments, whose attitude plays an important role in closing up outdated production facilities. Since some local government officials are not willing to lose their interests in fiscal and tax revenues, some of these companies cannot be eliminated as scheduled.
More disquietingly, some outdated facilities, having been eliminated by large state-owned iron and steel companies, are often purchased by small and medium-sized private iron and steel companies at low prices and put into production again. Many outdated production facilities eliminated in east regions are also transferred into central and western regions.
To cope with these problems, Ma Kai said that the government should strengthen the function of market, adopt measures to strictly control the size of fixed asset investments and curb the excessive increase in the demand of rolled steel on the domestic market, obviating the impulse of blind investment in the iron and steel industry.
In addition, tax policies should be readjusted based on changes of steel exports in order to nurture a market environment conducive to shutting down outdated production facilities. At the same time, local governments must sign responsibility pledges with related companies to close up these facilities.
With the coordination of local development and reform commissions, government departments involved in environmental protection, land resources, social security, safety supervision and quality control, as well as local industrial and commercial administrations, banks and electric power authorities would work in cooperation to intensify examination and supervision, said Ma.