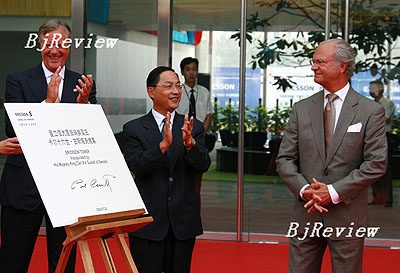 Though it wasn't always the case, China is an increasingly important part of European business and economic development. Since 2004, the European Union (EU) has been China's largest trading partner. In 2006, China became the second largest trading partner of the EU. China has emerged to be one of the most important markets for EU member states, one that can no longer be ignored.
Despite of news that China's trade surplus has exceeded $177.47 billion, a development that has provoked U.S. anxiety over Chinese currency policies, the EU has issued its latest China report painting a rosy picture on how EU operators can benefit from future trade with China.
In the foreword of the report, "Future Opportunities and Challenges in EU-China Trade and Investment Relations 2006-2010," EU trade commissioner Peter Mandelson explained that "the economic evidence provided by this study of key sectors of EU industry and services suggests China is actually a globalization success story for Europe: By forcing EU businesses to focus on their comparative advantages, they will move up the value chain and tap profitable new markets."
Mandelson added, "Competitively priced inputs from China are lowering costs for European processing industries. China's growing numbers of discerning middle-class consumers are a key market for the things that Europe produces best."
Over the past two years, the EU has pressured China regarding a number of trade disputes. In 2005, the EU enacted special protection measures for its textile products. Last year, the EU brought large-scale anti-dumping cases against Chinese shoe manufacturers. While these measures may have hurt the feelings of the Chinese people, this new report may help raise the EU's trading confidence in China.
"China and the EU trade will move forward against all odds; there is no major conflict between the two," commented Mei Xinyu, a researcher with China's Ministry of Commerce. "Unlike Japan and the United States, which have historical grudges with China, the EU has kept its relations with China that focus on the economic rather than the political field."
According to China's General Administration of Customs, China and the EU experienced robust trade relations: bilateral trade volume in January and February topped $51.08 billion, up 42 percent compared with the same period last year. The United States followed the EU with a trade volume of $43.86 billion, up 32 percent year on year.
Zhou Rongyao, researcher with the Institute of European Studies under the Chinese Academy of Social Sciences, noted that the economies of China and the EU are very complementary.
"Even though the two sides have been experiencing continuous trade frictions, both have become each other's major trading partners," said Zhou. "In my opinion, the EU doesn't like to stage frontal challenges to other countries. This attitude is akin to Chinese Confucian culture which promotes harmony."
While the EU's report complains about China's market access barriers and non-tariff barriers, it really must look itself in the mirror if it means to delve deeper into the Chinese market, according to Mei.
Mei pointed out that there are several obstacles hindering trade relations between China and Europe. First and foremost is the prevalence of protectionism.
"There are too many member nations inside the EU," said Mei, alluding to the confusion this causes in international trade relations. "In terms of trade with China, the EU agrees in general but the member states disagree in some specific fields."
The EU has grown from six original member states to 27, with Bulgaria and Romania being the latest countries to join.