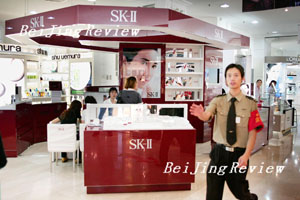 How the fallen product line in China will affect P&G…
Everyone knows Crest cleans your teeth, Pantene shines your hair and Pampers comforts your baby's bottom.
And Procter & Gamble Co.'s P&G label, for branding purposes, is almost everywhere these products are, helping to build one of China's most trusted names in advertising and manufacturing.
But last month, its flagship high-end beauty-care product, SK-II, came close to derailing the credibility P&G forged with consumers over the nearly 20 years it has operated in China.
Not only did China's General Administration of Quality Supervision, Inspection and Quarantine allegedly find traces of chromium and neodymium toxins in SK-II, P&G was seen as aloof to consumers' concerns. Although it has suspended sales of SK-II on the mainland, it failed to facilitate product refunds to the satisfaction of many consumers by suspending refund centers and instituting a hotline that reportedly didn't always work for individuals.
Other groups have since abated concerns over SK-II. South Korea's Food and Drug Administration, for instance, said the toxin amounts were too small to pose any health risks. Media organizations in Hong Kong also independently found through testing that chromium was present in samples of SK-II competitors.
But with SK-II gone from the Chinese mainland for now, and with consumers outraged over P&G's response, how might the new portfolio void and customer ire impact the company's China operations overall?
Stirred, not shaken
"This hurts P&G financially, at least for a while," said one industry insider, who declined to be named but has a thorough understanding of P&G's products. "How P&G dealt with the whole thing is really a problem."
P&G had a very good year in 2005 for its beauty care line globally, with sales increasing 14 percent to $19.72 billion. Earnings from the products increased 23 percent to $2.75 billion, accounting for 32 percent of the company's overall profit. The company's profit margin primarily increased because of volume growth and the company's further involvement in the Chinese market, according to its annual report.
But considering SK-II volume is now nonexistent on the Chinese mainland, it could spell trouble for P&G in 2006 and beyond.
Further, according to The McKinsey Quarterly, in 2003 China was P&G's sixth largest market, up from 10th three years earlier.
So while sales have been rising precipitously in China, any damage to P&G's market there now will have a much greater effect on the company overall than in previous years.
SK-II particularly held a big market share among luxury beauty care products in China, opening shops much more frequently and targeting more white-collar workers than it should have to be considered elite, the insider said.
Still, the SK-II issue won't be a big deal for the company's overall performance in China, said Bill Schmitz, cosmetics, household and personal care products analyst for Deutsche Bank.
"They have a large scale, have pretty good products, and they did a pretty good job understanding the Chinese consumers' preferences," Schmitz said. "They have a very big R& D center in Guangzhou and another one in Japan. So they have spent a lot of time understanding the unique attributes of Asian consumers."
Incredible?
But Chinese consumers, offended by P&G or made wary by alleged SK-II defects, could react negatively to the rest of the company's products.
"Chinese consumers are a lot more savvy than they used to be--it would seem likely there will be an impact across the portfolio," said Greg Paull, principal of R3 Asia Pacific, a marketing consulting group. "There will be natural fallout, but P&G has invested too much for too long to take this lying down."
Back in the United States, P&G spokeswoman Maria Burquest diverted questions over whether the company overall has a credibility problem, focusing instead on the safety of SK-II.
"All SK-II products around the world are safe, and consumers can continue to use them with complete confidence," Burquest said. "The situation in China is a unique one and is different from other countries."
Tom Doctoroff, author of Billions: Selling to the New Chinese Consumer, said he doesn't know for sure whether consumers might stop buying other P&G products because of SK-II.
But, he said, "I don't think this scandal is going to wipe away 15-20 years of investment in establishing relationships with Chinese consumers. And there is an underlying trust in multinational brands that cannot be discounted."
Further, he said, SK-II has leveraged the P&G brand relatively less than other brands in the portfolio, so consumers might not always associate SK-II with P&G.
"That said, this is not a good thing," Doctoroff said. "If you wanted to pick a way to test the strength of the existing equity, this [scandal] would be it."
Lin Wang, a resident of Australia visiting a Beijing mall, said she knows SK-II is a P&G product, but wouldn't discontinue using SK-II or other P&G products.
"I'm a bit worried" about the effect of beauty products in general, Wang said, but she simply researches the products themselves before she uses them.
And while Doctoroff said Olay would be a bellwether P&G product to check on for collateral SK-II damage because of its similar nature, a mall saleswoman said she hadn't noticed any decline in purchases.
Meanwhile, many Chinese SK-II consumers still await a refund. China Daily reported that while P&G had promised consumers it would issue a new refund policy during the National Day holiday, it still has not done so.
"We wish to apologize for any inconvenience and appreciate the loyalty of our Chinese consumers as we seek to resolve all outstanding issues with the relevant regulatory authorities," Burquest said.
Whether customers ultimately deem P&G unsympathetic or worthy of forgiveness remains to be seen. Their judgment could affect consumer confidence in P&G for years to come.
…And the lessons PR crisis managers should learn.
In 2005, public relations veteran You Changqiao made a list of the year's 10 most notable crisis management cases, and SK-II's "caustic soda scandal" was one of them.
That time around, a customer accused Procter & Gamble Co. over allegedly false advertising that claimed facial wrinkles and lines would be reduced by 47 percent after using SK-II for 28 days. The consumer found her face to be itchy and burning after using the product. Subsequently she sued, and although she lost, P&G was fined and its image was tarnished.
"But this year if I were to make a similar list, SK-II would definitely be the first on the list," said You, president of the Beijing-based PR firm Key Point.
Indeed, PR professionals across the board see this year's SK-II conundrum as a poignant example of what not to do during crisis management.
"Last year's crisis was very different from this year's in terms of its nature and scale," You said. One consumer complaint could just mean that the product didn't match her skin. But this year, a national quality inspection department found SK-II in error.
When the General Administration of Quality Supervision, Inspection and Quarantine announced it found excessive chromium and neodymium in SK-II, the first thing that P&G did was to claim the product was safe.
"According to P&G's statement, the administration's inspection result was wrong and came out of nowhere," You said. "Why can't the company just respect the government's inspection and admit its problem immediately? You don't challenge the government's authority in China."
P&G claimed at least three times in its formal statements that its products are safe without question.
Wrong move, said Doctoroff.
"If P&G quickly admitted a mistake or concern even and worked aggressively to reassure consumers and gave money back as well, this would not have snowballed," he said. "One thing that could kill a foreign brand is any perception of arrogance."
Indeed, if you read Chinese newspapers and magazines, frequently used words to describe P&G's handling of the current SK-II case are "arrogant" and "defiant."
Further, You said, in China, consumers tend to trust the government more than companies.
"Instead of crying out its grievance to consumers, P&G really needed to face and solve the problem with a positive and cooperative attitude," he said.
But rather than "recall" all the possible defective products, P&G chose the term "return." The company stated that a return is different from a recall; while the former is derived from consumer dissatisfaction, the later means there are indeed defects in the product.
You pointed out that in China when a crisis takes place, the first thing to do is to "comfort the consumers' panic, reason with them, and the last step is to go for justice."
When Kentucky Fried Chicken came under attack last year due to some poisonous ingredient, KFC reacted quickly, admitted the mistake, communicated with the government and media efficiently, and rebuilt its image in a couple of months.
"KFC showed its sincerity and concern to its consumers, even though it is not entirely KFC's mistake for the accident," said Zhou Zhong, formerly Vice Director of Nanfang Daily's economic column and now a PR specialist. "Quick and modest communication with the media will be very helpful, but P&G got it wrong."
Chain reaction
What happened. And how P&G responded.
Sept. 14 China's General Administration of Quality Supervision, Inspection and Quarantine reported that nine SK-II products contained chromium and neodymium.
P&G proclaimed its products were safe and didn't add any forbidden ingredients.
Sept. 15 P&G conducted negotiations with concerned governmental departments on its SK-II safety.
P&G set four strict rules that allowed qualifying consumers to obtain a refund for SK-II. One rule: Consumers must present a hospital note saying that they are allergic to the product.
Sept. 16-18 Sales of SK-II products halted and a considerable number of consumers returned the products.
P&G contended once again that its products are safe.
Sept. 20 The Japanese embassy in China noted that SK-II was not inspected before export.
P&G claimed that all its cosmetics had been tested and inspected before export.
Sept. 22 A Shanghai quality supervision bureau found that another three SK-II products contained forbidden ingredients.
P&G noted its products are safe, and also announced it was withdrawing SK-II from the Chinese market.
(Wang Yanjuan and Chen Wen contributed to these articles from New York.)