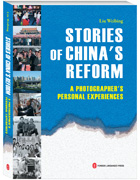 The striking old black-and-white photographs are evocative of history's power beyond nostalgia – especially for those of us who only saw China in the new era. Stories of China's Reform: A Photographer's Personal Experiences, by Liu Weibing, published by Foreign Languages Press, is indeed an eye-grabbing visual record. Its distinctive images evince strong emotions over the amazing often dizzying transformation of recent decades.
Many of his photographs have been long known across the world, since Liu is the official photographer of China's top leadership. This beautiful new volume gives us inspiring images covering China from the grassroots up. Liu Weibing's snapshots span the earth-shaking changes of the past 30 years, and transport viewers back and forth in a seamless "mixed-media" visual storytelling, which smoothens out what might be likened to rollercoaster decades.
Here is one book that provides more complex insights into a land of over a billion people, and the even more colossal transformation of their lives, certainly after 1949, but more particularly from the 1980s opening to the world.
Forty or fifty years is not that long, yet with the current pace of change, the book takes us back to a seemingly other world. Who recalls that such hip "brand" shoes, gracing shop windows of many a fashionable modern mall around this 21st century world, were once cast as homemade "peasant shoes"? – such canvas durables that swathed the feet that trod through ice and flood in the great march of 10,000 miles, to free China.
We recall the heights attained by those peasant shoes when viewing a lovely black-and-white picture (p.16) of those historic shoes worn by the photographer and his aunts at Tiananmen Square during the "Cultural Revolution."
The story accompanying the shoe photo also captures a moment over 20 years ago, of the "panic buying" of cheap goods in Beijing. Still, what could be more panicky than the latest commercial headlines hyping US "Black Friday" battles among shoppers grabbing at discounts before Christmas mark-ups?
From cabbages to capital markets
The photos range from the once only mountains of cabbages in the Beijing winter, to the magic land of China's first mall, the early 1970s Wangfujing Department Store, and 1990s China's silicon valley, ironically built in Zhongguancun, where eunuchs were buried: "zhongguan, a respectful reference to eunuchs who served the imperial family in the Forbidden City" (p40).
From cabbages to "western" hamburgers, from bicycles to bullet trains to Tibet and Gansu, from newspapers on community boards to Weibo, the most interactive network of over 300 million people; from lotteries to treasury bonds, to stock markets. From the unfathomable challenges of meeting the basic needs of a fifth of the world's people, to now a multimillion-dollar ad industry luring people to buy more than needed – China's first advertising laws only introduced in 1995.
The book is thus more than photographs. Who among the struggling peoples can but not feel the soaring yearning of a world trying to break free of a too long colonized past? – on seeing photos like those of Hong Kong's return to China. The photographer echoes: "China's takeover of the Kowloon Customs," at zero-hour of July 1, 1997, as "a moment of nationwide jubilation," when the Union Jack was lowered and China's starred red flag raised.
The book recounts the vision of Victor Hugo (1802-1885): "One day, two robbers broke into the Old Summer Palace, one to commit the crime of looting and the other, the crime of arson. The victors then divided the booty even between them. That is the story of the two robbers... The two robbers will enter history, one named France and the other Britain. It is my hope that some day, France will atone for its crime by returning its share of the booty to China." Such historical compensation, whether for slavery, invading wars or colonial plunder, is yet to be witnessed, but as the world balance of power shifts, more people the world over are calling for justice.
Here is a book of photography that holds up a mirror not just to the past but lights up the present and the future, in warm pixel and sharp byte. From 1995's momentous 4th World Conference on Women in Huairou, to the 2008 Olympics... These events provide powerful images of how amazingly China has stood up, capturing the imagination of people across the world.
Western media had long distorted China to the world, but many stereotypes were shattered through these memorable images. Here, China like a phoenix rises from disasters of unimaginable scale: floods, the 1976 to 2008 earthquakes, from SARS to tackling newer environmental and high-tech problems (like youthful IAD – internet addiction disorder!).
It is a very valuable as a general historical visual overview of China's reform era.
Yet here are photographs to both melt and resolve heart and mind, archiving both the momentous and the minuscule, with commentaries on such matters as the unprecedented mass movement of rural workers: they underscore the miracle that China appears to be today. Here is revealed some depth to this human movement, and also of those "briefcase in hand" and "swollen with arrogance," who attempted to exploit or degrade migrant workers. The section reminds of John Berger's famous photo-essay of migrant workers in Europe, The Seventh Man.
Then the lens is turned on the capital markets: "Only eight stocks were available for trading the day the Shanghai Stock Exchange (SSE) opened in late December 1990. All traders at the SSE were Chinese citizens, and transactions for the day were merely 3 million yuan in value. Today China has two stock exchanges... daily transactions combined are estimated at 200 billion yuan ($ 32.5 billion) in value."
Seeing is believing...
People ask us if all the stories about China are true. They know we've worked and traveled in China several times, but we usually sigh as they repeat some old, old saw, typical of anachronistic foreign reportage. The increasingly aware Chinese people will be the ones to better answer the watching world's questions, if only a world deafened by corporate media hype can hear.
With this new book, the world can see more of the real China. Liu Weibing's style is as seamless, as disarming and open as a camera lens can be. Wherever you are in the world, if you want to see China, or see deeper into the lives of its people, then open this book, gaze into a fascinating history, listen and learn...
The authors are Canadian book editors and writers based in Sri Lanka, who worked in Beijing with Chinese Literature and Foreign Languages Presses