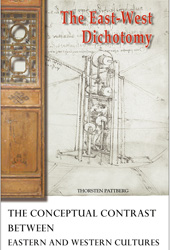 Publisher: Foreign Languages Press
Year of publication: 2013
Price: 70 yuan
Features:
The 'East-West dichotomy' is a philosophical concept of ancient origin which claims that the two cultural hemispheres, East and West, developed diametrically opposed, one from the particular to the universal and the other from the universal to the particular; the East is more inductive while the West is more deductive. Together they form an equilibrium...
Author Profile:
Thorsten Pattberg, D. Litt. is a scholar at the Institute for Advanced Humanistic Studies at Peking University. He received his Doctor of Letters in Comparative Studies and World Literature from Peking University.
Reviews:
"The difference between the East and the West has been a fascinating subject for comparative studies. In a thought-provoking and pioneering attempt, Mr. Pattberg illustrates a few highly significant philological and philosophical issues in the history of the two great cultural systems – when they harmonize and when the clash. This is a tour de force that should excite interest in a wide readership."
-- Du Weiming, Peking University
"An intriguing and historically informed work on the origin, evolution, and justifiability of the dichotomy between East and West."
-- Daniel A. Bell, Tsinghua University
"A highly original and stimulating take on East-West cultural differences. Though impressionistic and controversial in its style, it is a lively and thought-provoking book, full of material that was new to me. In particular it will intrigue those who are interested in attentional and cognitive differences between Westerners and Far Eastern peoples."
-- Iain McGilchrist, London
Purchase here:
Tel: +86 10 68996138/68997794
Fax: +86 10 68326642
Email: flprights@163.com