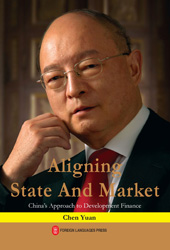 Publisher: Foreign Languages Press
Year of publication: 2013
ISBN: 978-7-119-08143-4
Price: 140 yuan
Features:
Aligning State and Market, a book containing a systematic and comprehensive review of development finance in China, was published by Foreign Languages Press and has hit shelves.
The author Chen Yuan, 68, former Chairman of the country's largest policy lender, the China Development Bank (CDB), shares his unique insights into the question of how government financial organizations properly conduct development finance.
Chen, who retired from the CDB in April, demonstrates how the CDB explored their own development finance theory, including bank-government cooperation in market development, financing models for urban development and market-based approaches and government mandates.
The book is the first to publicize how a number of national investment decisions were made. With thorough analyses on domestic policies and the international financial situation, the book is Chen's reflections on China's financial and social development over the past decade.
Chen's lifetime passion for finance and economics was inspired by his father, Chen Yun, a revolutionary veteran of the Communist Party of China who dedicated his life to economic policy-making in the early years of the People's Republic of China.
Purchase here:
Telephone: +86 10 68996138/68997794
E-mail: flprights@163.com