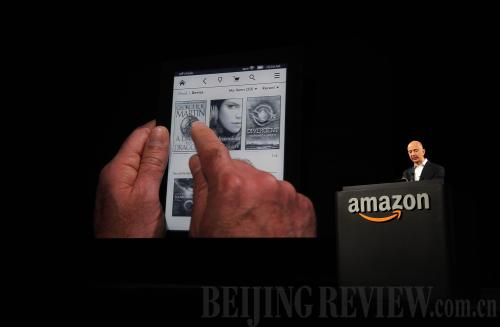 DEBUT: Jeff Bezos, CEO of Amazon, introduces new Kindle Paper white during a press conference on September 6, 2012 in Santa Monica, California (XINHUA/AFP)
Self-publishing is increasingly becoming a nightmare for old-fashioned publishing houses.
At the London Book Fair, which ended on April 17, self-publishing was the most heated topic up for discussion, said Sun Xiantao, Editor in Chief of Guangming Daily Press, in his article published on Guangming Daily on May 6.
Sun credits Amazon for the massive change underway in the publishing industry. When Amazon introduced its Kindle e-reader, it touted the arrival of a new industry spawned from e-book purchases over physical books, he said.
Amazon's paid reading involves two steps. First, it turns paper books into e-books and then sells them at a discounted price. Second, it uses its Kindle Direct Publishing platform that allows authors to directly trade with readers and then Amazon charges a fee according to sales.
In addition to Amazon, Nook Company under Barnes & Noble recently launched Nook Press, a self-publishing platform. In the last two and half years, Nook's quarterly self-publishing business grew at the rate of 20 percent. At present, 30 percent of its clients buy its self-published books every month, said Sun.
Similar to Amazon's direct publishing, the advantage of Barnes & Noble's self-publishing platform is to give authors more profits and a broader creation space. According to some reports, Barnes & Noble gives its writers as high as 80 percent of sales profits, thus attracting a lot of writers, Sun added.
According to Gayle Feldman, New York Correspondent of The Bookseller and Biographer of Random House Founder Bennett Cerf, self-published writers can get 70 percent of profits while publishing houses get the rest. Feldman spoke at the China International Publishing Group on May 8, where she provided an overview of the U.S. publishing industry.
Rachel Van Dyken published The Bet through Amazon's self-publishing platform earlier this year. Fortunately, it was listed as a New York Times Bestseller. She said writers can finally get away from those self-righteous editors in publishing houses with the help of self-publishing. Ironically, when Dyken sought out a traditional publishing house, she was required to revise the title of her book 16 times.
Sun noted that editors remain the last bastion of hope for the traditional publishing industry with skills that cannot easily be replaced. For instance, editors are the ones who scour through the heap to find books audiences would enjoy, a skill yet to spill over in the digital world where anyone can be an author. Therefore, readers are implicitly reliant on editors to stock store shelves with good books.
But current mobile and Internet technologies have already fundamentally altered the divide between writers and readers, and will effectively render the position of the editor redundant.
Using Cloudary for example, China's largest online community-driven publishing company established in July 2008, Sun said that it has a huge self-publishing platform equipped with hundreds of thousands of writers and millions of writing resources.
The role of editors has been replaced by self-editing software. In terms of a book, its so-called "publishing rights" have disappeared as sales are divided between writers and Cloudary.