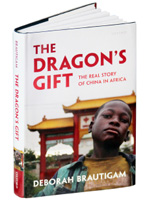 Far from being the "rogue donor" out to grab Africa's natural resources, as it is often portrayed as being by some commentators, author Deborah Brautigam believes fears about China's growing engagement with Africa have been overblown, something that has largely come about through a lack of careful analysis.
China's main aim in Africa, she believes, is about creating business opportunities for Chinese companies that are going global.
From its large scale infrastructure developments - things such as railways and hydropower projects, its engagement in agribusiness and low-end manufacturing, and yes, of course, resource extraction - China's growing presence in Africa has meant opening up opportunities for its businesses back home while at the same time partnering with the continent in a win-win situation that benefits both parties. Brautigan demonstrates through careful analysis of China's activity there over the past several decades.
There is probably no expert outside of China that has studied the country's engagement in Africa as deeply as Brautigan, who has been following these developments since the 1980s to the current day, as she details in her timely book The Dragon's Gift: The Real Story of China in Africa, published by Oxford University Press.
In order to research this complex topic, Brautigan conducted numerous field visits to Chinese-funded projects and Chinese businesses in Africa, as well as interviewed countless foreign and Chinese experts knowledgeable about developments on the ground.
What she has come up with is a clearheaded exploration of the "myths and realities" of China's actions in Africa.
Unpacking fact from fiction
By breaking down the controversies like - whether China's involvement in certain countries with poor governance increases corruption there, if it is only after natural resources, if it really is an enabler of unsavory regimes such as Sudan and Zimbabwe, if it hurts the growth of democracy and human rights efforts, if it takes jobs away from Africans and disregards environmental and labor laws, or skirts international norms just to access Africa's markets - Brautigam attempts to separate the "truth from perception" by viewing these issues from all sides and does a remarkable job of clearing many of them up.
For example, far from being a new phenomenon, China has been "engaged" in Africa since the early years of the founding of the People's Republic in 1949, sending aid and assistance to Africa in the form of medical and agricultural experts, as well as through jointly developing businesses.
China's more serious investments in Africa didn't come until the 1990s, however, after the reform and opening up policy began to rapidly develop the country and provided its companies with the opportunity to begin "going global."
Brautigam examines how these efforts to globalize China's business presence led the newly developing nation to turn to Africa, much like Japan had engaged with business investment in China in the 1980s to spur its own global growth.
China has been able to invest in massive infrastructure developments and agribusiness in Africa in the past two decades largely because the business opportunities are there and Western development and donor organizations such as the International Monetary Fund, World Bank and United Nations turned largely to social development funding, leaving a wide gap that China stepped into, she writes.
And while China has been reluctant to involve itself in the "internal affairs" of Sudan, just by being present in the country and dealing with its government it is naturally involved, and its relationship with the Sudanese Government has put it in a position to be able to utilize some of its sway on how the African country acts.
Relative
Brautigam writes that China has begun to realize this, and as one of the main players in Sudan (though it isn't alone - India and Malaysia "provide considerable investment" in the oil sector there, and Russia is its main supplier of military aircraft and conventional weapons), it gets much of the blame for providing "political cover" for the regime there. But things are changing, and China's appointment of a special envoy to Sudan and cooperation with the international community have helped to ease the crisis in Darfur in the southern part of the country.
But what about corruption or fears that Chinese workers are stealing African jobs?
On the latter, these fears are largely overblown, Brautigan writes, and backs up her claims with intensive research. There is a threat to the African textile-manufacturing sector from competition with China, she details, but this has more to do with the global market and labor issues in Africa, than any plot to undermine that sector.
Brautigan writes that while China is not making corruption worse in Africa, it is "definitely" not making it better either. Yet many other countries also can claim their share of the blame and it is uncertain whether combating corruption, which "is widespread in China and many other Asian countries such as Korea," should outweigh economic development goals, writes Brautigam.
The author is an American journalist living in Shenzhen