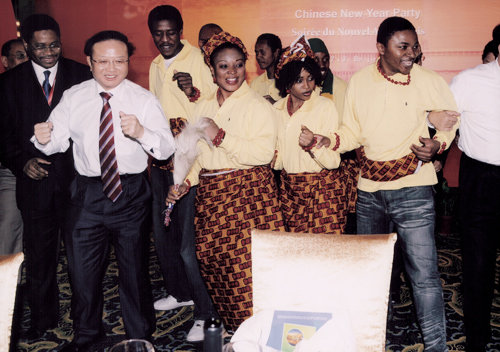 JUBILANT CELEBRATION: Wei Jianguo (second left) with African friends at a Spring Festival party in Beijing (COURTESY OF WEI JIANGUO)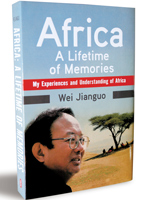 Recently, a book named Africa: A Lifetime of Memories—My Experiences and Understanding of Africa has gained overwhelming public attention in China and Africa. After being published by the China Commerce and Trade Press in September 2011, it has won a flood of praise and is renowned as an encyclopedia of China-Africa exchange due to its comprehensive and accurate narration of China-Africa relations.
Wei Jianguo, the author of the book, is a senior Chinese official. Born in 1947, he was formerly vice minister of commerce and a member of the Central Commission for Discipline Inspection of the 16th CPC Central Committee (2002-07). At present, he is secretary general of the China Center for International Economic Exchanges.
It is not new for memoirs written by a senior Chinese official to become an important reference in a certain field. This book records Wei's memory of the exotic land of Africa, a battle hymn of the passionate years of China-Africa cooperation and an authoritative guide, presenting an all-around picture of Africa to prospective investors.
Wei is a familiar name in Africa. As a political figure in contemporary China-Africa relations, Wei is well known for several reasons. First of all, he has worked in the field of China-Africa economic and trade cooperation for nearly 40 years—the longest among his colleagues. Second, he has been to all 54 countries on the African continent during his career, the most among his colleagues again. Third, he is the highest-ranking official who has been promoted among government officials working in the field of China-Africa exchange.
Since he spent his best and most creative years in Africa, Wei recorded his life in Africa with sincere feelings. With nearly half a million characters, the book recorded the China-Africa exchange in all fields, including politics, economy, trade, finance, transportation, mining, aero-space, medical care, agriculture, petroleum exploration, water conservation, handicraft, public charity, cultural communication, and special zone development.
As an official who worked from the grassroots position to a vice minister in full charge of China-Africa economic and trade cooperation, Wei has plentiful first-hand data in this field. These data, coupled with his own insights, are precious and practical information for the African and the Chinese people who are concerned with China-African affairs.
The book includes abundant stories in China-African exchange, from state leaders to ordinary construction workers. Wei's writing itself works as an illustration or historical panorama. For instance, one story was about Chairman Mao Zedong, the founder of the People's Republic of China. Before Mao passed away, he had been ill and unable to meet a visiting African president. But he struggled to write a letter of more than 10 Chinese characters to express his apology.
Wei recalled after the devastating Wenchuan earthquake hit southwest China's Sichuan Province on May 12, 2008, many African countries made generous donations to China. They said one of the reasons was that none of the buildings constructed by the Chinese enterprises collapsed when Africa was struck by earthquakes. These and other events, Wei said, have built a solid foundation for Chinese-African relations.
Some other stories are impressive too, like the one about Dr. Lu Chunming, who tested an anti-malaria drug on himself, or the one about translator Wang Xuyang, who braved a cannibal tribe to save a hostage. All these touching stories help people today understand why and how the China-Africa friendship has grown so strong and sound.
About 220 names are mentioned in the book, including government officials, experts, scholars and ordinary people. All of them have been devoted vigorously to enhancing China-Africa friendship.
The book also features a collection of 167 photos—pictures that capture many key moments in China-Africa history. Many are precious and old black-and-white pictures. They include huge sapphire-shaped water tower built by Chinese companies in Niger, the Martyr Stadium constructed by China in Kinshasa, Democratic Republic of Congo, the rural primary schools in Serowe, Botswana, and the vivid expressions on the faces of young Chinese and African acrobatics performers. From these pictures, readers could feel the laughter, achievement, and honor of the people who witnessed and contributed to the development of China-African friendship.
A netizen concludes his view of the book by citing Ernest Hemingway's words, "All good books have one thing in common—they are truer than if they had really happened, and after you've read one of them you will feel that all that happened, happened to you and it belongs to you forever."
A Brief Profile of Wei Jianguo
March 1947 Born in Zhenjiang in east coastal Jiangsu Province.
1965-1970 Studied French in Shanghai International Studies University.
1973 Worked in the business office of the Chinese Embassy in Morocco.
1980-1984 Worked in the business office of the Chinese Embassy in Tunisia.
1988-1992 Worked in the Chinese Embassy in Gabon.
2003-2008 Worked as vice minister of commerce.
2009-present Secretary general of the China Center for International Economic Exchanges.
Wei is a multi-lingual expert, speaking French, Arabic, Japanese and Russian.
The author is a senior editor of China Daily
Email us at: baishi@bjreview.com