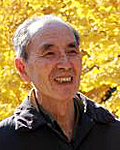 Lin Wusun (JIANG XIAOYING)
For most Westerners, Confucius (551-491 B.C.) is synonymous with China. Chinese also feel much the same—generally viewing the philosopher as ancient China's foremost thinker due to his immeasurable impact on the Chinese culture. The thinking of Confucius—especially his emphasis on harmonious filial and social relationships—is probably best known through The Analects, a record of the sage's wisdom compiled after his death. This classic has been translated extensively into all the world's major languages. In March this year, the Beijing-based Foreign Languages Press published a new English edition of The Analects. Lin Wusun, a celebrated translator and leading scholar of comparative philosophy, translated the new version. Recently, Lin sat down with Beijing Review reporter Zan Jifang to discuss his rendering of this classic.
Beijing Review: Why did you decide to translate The Analects? How long did it take?
Lin Wusun: To be frank, when I was young, I had little interest in Chinese philosophy. That's why I chose Western philosophy as my major when I studied in the United States in the 1940s. At the time, I was deeply obsessed with Western methodology. But when I returned to China in the early 1950s, I gradually realized how much traditional Chinese thought had influenced Chinese people's thinking and values. We Chinese need to learn something about the roots of our culture.
After I retired in 1994, I finally had time to do some of the things I had been interested in. Translating traditional Chinese classics was one of them. First, I translated The Art of War by Sun Zi and The Art of War by Sun Bin.
I began translating The Analects in the late 1990s. Later, because of the publisher's change of plan, I had time to revise my own translation. That gave me an opportunity to increase my understanding of the original text.
While revising my work, I read all the relevant academic works available to me. As a result, I ended up revising my translation five times. This process also deepened my understanding of the sage.
Compared with former translations, what do you think is a unique aspect of your version?
Since The Analects is an ancient classic, different people have different understandings of it. Therefore, each translation reflects the translator's own understanding of the original text.
Furthermore, as time passes, language also changes in certain ways. For example, the concept of ren in The Analects was translated as "benevolence" in the past. But today, the word "benevolence" cannot convey the full meaning of ren. In my translation, the term of ren is rendered as "humaneness."
In addition, the evaluation of ancient classics has been different, to some extent, in different eras. That's why there have been many translations of the same classic. In the future, newer translations of The Analects will surely come out.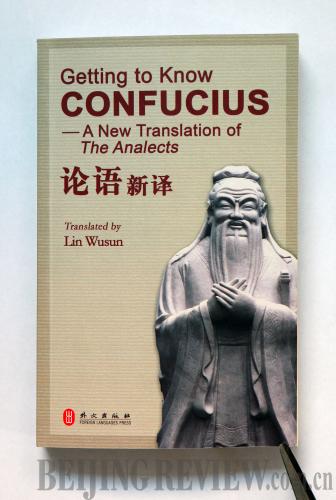 The Analects, translated by Lin Wusun (JIANG XIAOYING)
To help foreign readers better understand The Analects and Confucianism, my version also includes an introduction I wrote about the life of Confucius, and the development and lasting influence of Confucianism on Chinese philosophy and society. In addition, I also made a comparison of the thoughts, experiences and influences of Confucius with those of Socrates and Jesus. I also compiled 30 useful quotes from Confucius into a small pamphlet—an appendix to the book—hoping to help readers who want to engage in further study.
What is the value of The Analects, in your opinion?
I think some of the ideas in the book are still valuable today. For example, Confucius' thinking about harmony such as "harmony is precious" and "harmony but not sameness" can be used by people today.
The Analects also includes the well-known quote from Confucius, "Don't do unto others what you don't want others to do unto you." This is also known as the Golden Rule. Similar statements can be found in the doctrines of many other religions. For example, the Book of Matthew in the New Testament says, "Do unto others as you would have them do unto you." The similarity of these thoughts shows the commonality of human values.
Confucius also attaches great importance to education, which is still valuable today. Confucius holds that a person needs to learn not only knowledge, but also the proper way to treat others and do things. He also stresses the importance of being honest.
Just as the Bible influenced Western language, The Analects enriched the Chinese language and greatly influenced Chinese thinking and values. Many apothegms from The Analects are still very popular in daily use and in literary works, such as "walking in the company of others, there is bound to be something I can learn from them." In addition, there are many anecdotes in The Analects that are simple and interesting, but also enlighten people very much.
Certainly, I don't think Confucius is perfect. He eulogizes the past. This is why some people think he is a conservative. Perhaps they are right, but it is understandable. The time when Confucius lived was fraught with political turbulence and social disorder. So, for Confucius, the past—for example, the Western Zhou Dynasty (11th century-771 B.C.)—seemed ideal.
Confucius also looks down upon women; I think this is a flaw we should not try to gloss over. However, it is also understandable since Confucius lived in a patriarchal society where women had no social status, and his attitude toward women was merely a reflection of his times.
What was the most difficult part of your translation work?
The most difficult part is that The Analects is a record of Confucius' words and experiences, not a systematic essay or dissertation. Thus, before translating, you have to understand the context first. This is very hard, since the book was written in ancient Chinese and one word or phrase may have many meanings.
In addition to this, there are many persons mentioned in the book—some are historical figures and some disciples of Confucius. The translator has to know who these figures are and introduce them to readers in notes. But the problem is how much space we should use for these notes. Too many notes will affect the flow of the text. You have to balance the good and bad aspects of using notes. This is why I revised my translation many times, and I am still not satisfied with my current version.
Who are the target readers for your translation?
The publisher hopes that the book will attract foreigners who are interested in the Chinese culture. As far as I am concerned, I hope the book can help students in overseas Confucius institutes better understand China. Another group of target readers may be Chinese students who are learning English.
The basic principle of my translation is that the book must be readable to ordinary foreigners. I think an excellent translation should be easy to understand. What is most difficult is to introduce complicated things in simple language.
What do you think is foreign readers' biggest obstacle to comprehending The Analects?
In my opinion, language is no longer the biggest barrier to readers after translation. What will affect readers' understanding is the cultural difference. Language is based on people's experience in daily life. Sometimes, what is natural to us Chinese may not be a natural thing for foreigners. So when translating, you cannot translate literally. A translator needs to understand both cultures well.