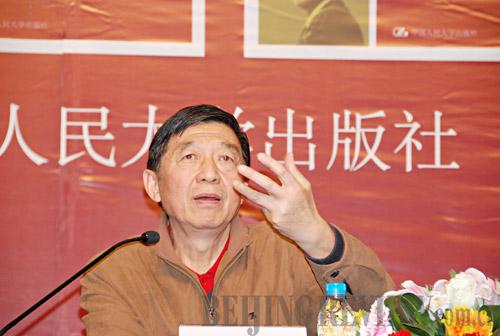 Senior diplomat Wu Jianmin discusses his new books on diplomacy during a press conference at Renmin University in Beijing on January 11, 2010 (CHEN RAN)
Six books involving Wu Jianmin, former Chinese ambassador to France and former Chairman of the Bureau of International Exposition, were recently published by Renmin University Press.
Wu has gained a great deal of experience in his 51-year career as a diplomat. The series--The Art of Communication, The Rise of China in the Eyes of a Diplomat, China Is Sharing Her Growth With the Rest of the World, Case Studies in Diplomacy, The World Under Great Changes, and Our Memorable Years in France--features detailed stories about China's diplomatic history, as well as the author's insights on and analysis of international affairs.
"By and large, there are three reasons for my writing," Wu said during a press conference on January 11 at Beijing-based Renmin University. "First, I'd like to make readers think about domestic and international affairs in a global context. Second, I'd like to push forward the study of foreign relations, for a huge number of case studies is required during research. Finally, I'd like to help strengthen people's communication abilities."
In Our Memorable Years in France, Wu recalls his participation in Shanghai's bid for the 2010 World Expo, which he described as his "final fight for the country's diplomacy." In The World Under Great Changes, Wu notes that "civilization is what the World Expo is all about--displaying the latest civilization achievements, raising the problems people face, and seeking solutions to those problems."
In 2005, Wu was a jury member at the Aichi Expo in Japan, where he visited each pavilion three times and marked down scores. "The visitors at the Aichi Expo impressed me because they were very disciplined," Wu recalled.
"I truly hope that the Shanghai World Expo, which begins on May 1 this year, will become a milestone in the World Expo's history, because it is the first time that the event will be hosted by a developing country, and also the first time that the theme is 'cities' ('Better City, Better Life' is the theme of the Shanghai World Expo)," Wu said.
"My expectations for Shanghai, from the very beginning in 2001, are splendid, successful and unforgettable. These will be tested through pavilion construction, organization and coordination, and so forth. Hard work is needed to make the Shanghai Expo a milestone," he continued.
"It would be ideal if we could find a suitable solution for China's urbanization as well," he added.