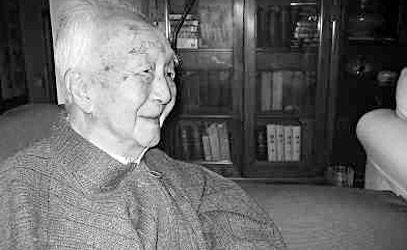 File photo of Yang Xianyi (PEOPLE'S DAILY)
Yang Xianyi, one of China's most well-known translators, known for rendering numerous ancient Chinese classics into English, including The Dream of the Red Mansions, died in Beijing Monday. He was 95.
Yang had reportedly been suffering from lymphoma cancer. In September, he was given a lifetime achievement award by the Translators Association of China.
Born into a wealthy family in 1915 in the northern coastal city of Tianjin, he was sent to Oxford to study Classics in 1936, where he married Gladys Taylor. Yang and his wife returned to China in 1940, and began their decades-long cooperation of introducing Chinese classics to the English-speaking world.
Working for Foreign Languages Press in Beijing, the couple produced a remarkable number of quality translations, including classic novels such as The Dream of the Red Mansions and the selected works of 20th century writer Lu Xun.
Besides, the Yangs were also the first to render The Odyssey into Chinese from the ancient Greek original.
His wife, Gladys Yang, died in 1999.
(Xinhua News Agency November 23, 2009)