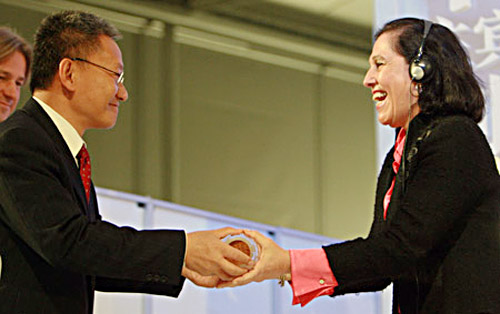 Wu Shulin (left), deputy chief of the General Administration of Press and Publication of China, hands over the scroll of the Guest of Honor to Magdalena Faillace, Argentina's Ambassador to Germany, at the Frankfurt International Book Fair in Germany, on October 18 (XINHUA)
The 61st Frankfurt Book Fair closed Sunday, with China handing over the guest of honor to Argentina for the next event.
"China has, for the past eight months, presented for the book fair 612 events, made over 1,000 copyrights deals, and exported 2,417 Chinese book copyrights," said Wu Shulin, Deputy Director of China's General Administration of Press and Publication.
 "We don't speak the same language, but we have come to understand each other better," said Juergen Boos, Director of the Frankfurt Book Fair.
"The openness of China is more than we could have expected. And visitors have got their own pictures of China," he added.
He also noted that before the book fair, there were only eight literary titles of China translated into German last year. Now some 400 various titles of China will be translated, 160 out of which are literary titles.
Renowned Chinese author, Wang Meng, read aloud in Chinese from his work at the handover ceremony.
The Frankfurt Book Fair 2009, from October 13 to 18, is the world's largest and most important of its kind, with over 400,000 books from more than 100 countries put on display and drawing over180,000 international trade visitors.
(Xinhua News Agency October 18, 2009)