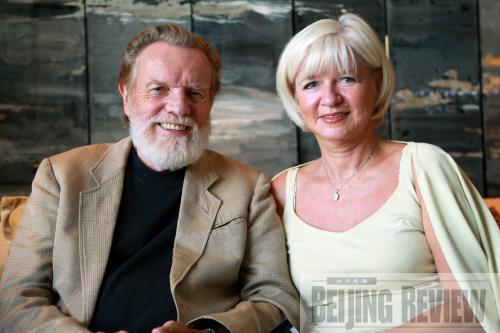 INSIDE OBSERVERS: John Naisbitt and his wife Doris visit Beijing to promote their new book, China's Megatrends: The Eight Pillars of A New Society. The book helps Western readers understand China through its history and development (JIANG XIAOYING)
Best-selling author John Naisbitt and his wife Doris have co-written the upcoming book China's Megatrends: The Eight Pillars of A New Society. The two recently visited China to promote the new book.
A U.S. citizen, John Naisbitt has proven himself a guru at predicting social trends in various countries. His series of books, which started with his first Megatrends in 1982, has sold more than 14 million copies around the world. The new book is based on the research of the Naisbitt China Institute in Tianjin Municipality, which he founded in 2007. He is also a guest professor at the Tianjin University of Finance and Economics and at Nankai University.
On August 30, Beijing Review staff reporter Li Li interviewed the couple on their new book and their conversation with former Minister of the Information Office of the State Council Zhao Qizheng, based on which a Chinese press will publish another book.
Beijing Review: We know that you have conducted intensive studies on Asia in the last few years. How long did you conduct research for your upcoming China's Megatrends?
John: My travels in Asia and particularly travels in China over the last 40 years are certainly instructive as to what is going on. When I was here in the 1960s, it was so primitive and backward that it wasn't yet modern China.
You have to say, "How did they do it?" No one has ever done that before. That's the question.
The very important thing we try to convey to the West is that this is not a shift or adaptation, but the creation of a totally new social and economic system. How did this system get built? What were the underpinnings? That's how we moved to the "pillar" principles. That's when we really started to get involved in the last couple of years.
Doris and I have been traveling together over the last 10 years around China. Our institute got underway in 2007, which monitors what is going on locally all over the country. It is clear to me that, throughout the world, what is going on locally in any country taken together is what is going on. So you have to monitor locally from the bottom up. We did research for the book for about two years.
You said an essential idea at the core of your new book is that China is creating an entirely new social and economic system, which challenges Western democracy as the only model of government that can provide social and economic rights. So why is it important for Westerners to learn and believe in your findings?
Doris: When the West looks at China, it always has a view from our values, from Western history and the Western political system. We judge China with those values in our heads, always measuring it against the West. But that does not give a picture of the real China. The only way we think to understand China is to look from inside out, not from the outside into China. China needs to be judged by its own values and its own history, because its values are based on its own history. To give the West information necessary to understand China on its own terms is one of the purposes of this book.
Why did you choose China?
John: Because it is the story of our time. It is the greatest story of our time. If you think about it, what is the story of our time? This little financial crash that is going to come and go? All these stupid wars? Compared to the rise of China, nothing comes close. This is a great story and the story of our time.
Doris: Fourteen years ago, when John wrote Megatrends Asia, I was the German language publisher. I remember the media was attacking him because he said Asia and China were on the rise. He already said at that time that there was a shift from the West to the East.
We know that you have been a successful futurist ever since your first groundbreaking Megatrends book in 1982. Are there universal tools you use to study and analyze domestic and international trends?
John: The universal tool is my brain. (laughs)