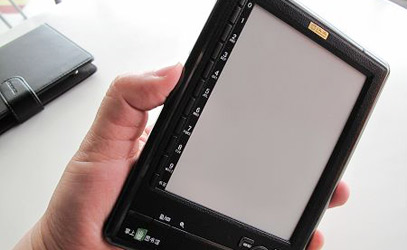 Labeled as "being compatible with Simplified and Traditional Chinese Characters and English," the Hangwang e-book device produced by China made its formal debut in Hong Kong, and orders were accepted starting from August 21.
The annual output value of books published in Hong Kong reportedly amounts to HK$4 billion in total. According to Dr Chan Man Hung, Chairman of the Hong Kong Publishers Federation, the e-books won't replace printed books, but a favorable turn will appear in the following 3 to 5 years.
"In the next five years, the e-book will mushroom just as digital camera having replaced the traditional film camera," Liu Yingjian, board chairman of Hanwang Technology said in March.
Through Gateway, an agent in Hong Kong, Hanwang officially launched its "e-book" product N516 during a computer festival held at Hong Kong Convention and Exhibition Center on August 21. The agents in Golden Computer Shopping Center, Sham Shui Po, and Wanchai Computer Center in Hong Kong have began accept orders, advertising "the official debut of the first e-ink e-book in Hong Kong."
Ke Guobin, a sales manager of Gateway, is optimistic about the sales of new product, saying "dozens of orders have been placed for the product in recent days." He also noted that the device allows the users to read for 32 hours after a single battery charge. With little power consumption and no harm to the eye, it temporarily has no rivals on the market.
(CBI August 28, 2009)