Journalist-turned-author Simon Winchester had never heard of Joseph Needham (1900-1995), a biochemist at Cambridge University and the most famous Englishman to ever live in China, until 1996 when he was in China working on a writing project about the Yangtze River. A friend of his recommended Needham's Science and Civilization in China, Vol. IV, Part 3: Civil Engineering and Nautics as a reference for Winchester's research on the Three Gorges Dam.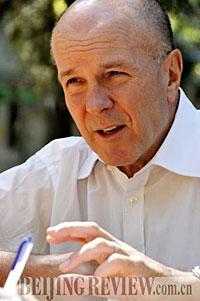 Simon Winchester (SHI GANG)
"It was an amazing piece of history--everything that you had ever imagined and wanted to know about China's relations with the water, including the use of the compass, the navigation charts, the designs and drawings of Chinese sailing junks in the Ming and Qing dynasties (1368-1912). I was completely thrilled after finishing the 984-page reading," Winchester told Beijing Review. "I was told that Science and Civilization in China is the longest book in English on China that has ever been written. It has completely changed how the West sees China."
Winchester wanted to know more about Needham and decided he would like to tackle this extraordinarily interesting man's life one day.
That's how Needham entered Winchester's life. But it was not until almost a decade later, in 2006, that he began to write Needham's biography.
Better timing
"I think in the mid-1990s, China was still a very difficult subject to write books about," Winchester said.
Winchester's book The River at the Center of the World: A Journey Up the Yangtze, and Back in Chinese Time came out in 1997 and though it was well reviewed, it didn't sell in large quantities. Hence, he wrote a number of other books about completely different subjects.
Fortunately and unexpectedly, his book The Professor and the Madman, a history of the Oxford English Dictionary, sold millions of copies and became a New York Times bestseller in 1998. His life has changed since then.
"I know where my next meal is coming from and don't have to be as financially worried as I used to be. I can write what I want to write about," Winchester said. "But there's a slight problem. My publishers always want me to write bestsellers. It is a huge pressure and I try to resist it."
Thanks to his geology background, Winchester's subsequent books The Map That Changed the World, Krakatoa and A Crack in the Edge of the World all became bestsellers. Another proud moment in his life occurred in March 2006, when he took his 88-year-old mother to Buckingham Palace to receive the Order of the British Empire from Her Majesty Queen Elizabeth II, an honor bestowed on "people who bring honor and glory to their country."
With Winchester's rising profile and China's increasing popularity as a subject in the run-up to the 2008 Olympic Games, a book about Joseph Needham had the potential to succeed.
"The timing both for me and for China was much better than in 1996," he said.
Retracing Needham's footsteps
"I got permission from Cambridge University to use the archives--some of Needham's handwritten diaries," Winchester said. "Once I read these amazing diaries, the story sort of told itself. I love China, so it was easy for me to write the book."
Needham was a formidable intellectual with many eccentricities. He was both a Marxist and a Christian, an unusual combination. He was also a nudist. He practiced the morris dance, a peculiar form of English folk dancing. He played the accordion. He was a big singer and smoked tremendously. He was a womanizer. His ideas about knowledge were complicated.