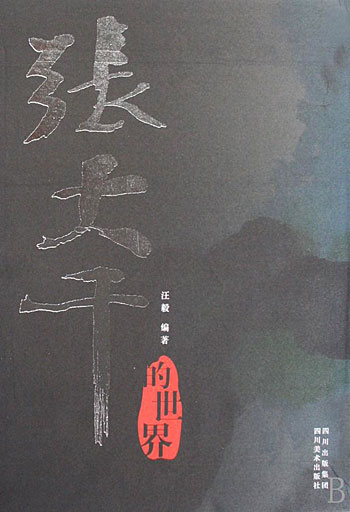 The cover of The World of Zhang Daqian
The World of Zhang Daqian (a set of 3 books), Focus on Zhang Daqian, Look Back at Zhang Daqian, and The World of Dafengtang Paintings, has been recently published by the Sichuan Fine Arts Publishing House.
The set of books is the 20-year fruitful research results by Wang Yi, former principal of Zhang Daqian Memorial Gallery (currently serving at the editorial board of Sichuan province chorography), who visited hundreds of people including the relatives, disciples, and old friends of Zhang Daqian at home and abroad.
The set of books includes 55,000 words and 960 photos. Some literature as well as hundreds of photos of Zhang Daqian and Zhang Shanzi taken during the Republic of China period or during the time when they lived overseas, have been revealed to the public for the first time. The set has also systematically summed up and presented the 80-year brilliant history of the Dafengtang Painting school initiated by the brothers--Zhang Shanzi and Zhang Daqian, and for the first time introduces the framework of "Zhang Daqian School" and the concept of "Dafengtang" painting school, which are of great value in terms of literature, academic, appreciation and collection.
(CBI December 26, 2008)