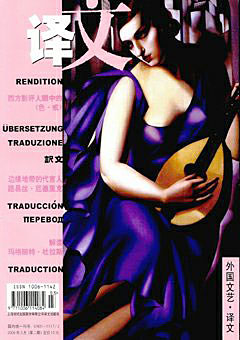 Cover of one issue of Rendition (or Yiwen in Chinese) magazine. (Photo: Star Daily)
Rendition (or Yiwen in Chinese), a magazine of Chinese translation on world literature, that was very popular among literature lovers, has closed, according to recent media reports.
The magazine's publisher, Shanghai Translation Publishing House, made the decision to focus fully on another magazine Foreign Literature and Art to which Rendition was a subsidiary, head of the House Han Weidong told the media on Monday.
There was speculation that the magazine was facing problems due to low circulation and the soaring price of paper. Chief-editor Han disclaims the closing resulted from financial problems.
He added that the decision to close was a strategic one as Rendition had a low circulation and the House needs to reorient its magazines. Foreign Literature and Art is also suffering a decline in readership. The House will intensify their efforts to raise its profile as a professional translation magazine.
Rendition's November issue, which was delivered to subscribers last week, was the final issue.
The magazine was started by veteran Chinese writer Lu Xun and Mao Dun in September 1934. However, it had closed a couple of times during 1930s.
When the magazine resumed publishing in Shanghai in 2001, it was supported by a list of outstanding scholars and translators from home and abroad who had guaranteed the accuracy and elegance of the translation.
In April this year, information was leaked that Rendition would stop publishing. Many readers posted online messages expressing their dismay over the decision.
Yilin, an equivalent literature translation magazine, also faces the threat of being overwhelmed by more multifarious magazines in the market. Sources with the magazine said, though Yilin survives, it has lost much of the attraction of its heyday when its circulation would reach hundreds of thousands of copies a year.
(CRIENGLISH.com November 20, 2008)