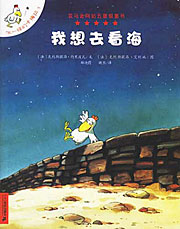 In 1997, the children's book La Gallinita Que Queria Ver El Mar (The Little Hen Who Wanted to See the Sea) written by Christian Jolibois (author) and Christian Heinrich (illustrator), both from France, made a stunning debut in Europe. Hence, "the Little Hen" series received warm welcome and won several literature awards on home soil, including the Cherbourg Teenagers' Book Awards in 2001.
In 2006, the Chinese edition of "the Little Hen" series was published by the 21st Century Publishing House. To this day, it hits a record of more than 1 million copies since first printed, becoming a bestseller in the genre of children's books, according to dangdang.com, one of the leading online booksellers in the Chinese mainland.
The two authors came to China in mid October this year and shared their views on their books as well as the joy of reading with Beijing Review.
Q: How do you view your books?
Christian Jolibois: One of the successes of the series is that they can make readers laugh -- for children, who are interested in some plots or stories, will feel happy to see illustrations; for parents, who have better understanding about stories, will enjoy reading.
Christian Heinrich: We did not mean to express philosophy or thinking in our books; all we wanted to do is to make children feel happy and laugh. We would like to let children feel and discover the world through the stories, which will also get the real life involved.
Q: This is the first time that both of you have visited China. What was your impression about Beijing?
Christian Jolibois: My first impression was energetic. People here were happy; I saw smiling faces everywhere. To be honest, all my memories about China could basically be traced back to before the 1980s, so I'm just wondering how it happened -- to reach a sea change in terms of temperament.
Q: So far, "the Little Hen" series has hit a record of more than 1 million copies sold. Is it beyond your expectations that they would receive such a warm welcome among Chinese readers? Did you know anything about Chinese arts at home?
Christian Jolibois: I was shocked about the sales results and I felt happy that Chinese readers like our books. I knew little about Chinese arts back home in France, because most information about China that appeared in the press was about politics. The only person related to China that came to my mind was Zhao Wuji, a painter.
Q: Did you think about cultural differences in the books?
Christian Jolibois: I have to admit that the first book I wrote in 1997 was specifically aimed at European readers; we did not think about the readers in Asia, so there were some stories hardly understood by Asian children and parents.
I think I have learnt something about Chinese culture this time, which I was unfamiliar with at home; I am very curious about it. It is possible that I can now add some new and fresh things in my future books.
Q: It seems that children in China have become less interested in reading; and resort to TV programs and the Internet instead. How about the situation in Europe?
Christian Jolibois: Children in France, like their Chinese peers, spend more time playing online games; the time for reading becomes less and less. In fact, reading could bring them space for imagination and creation; online games focus on result, not the process, which is really worrying. So far, there is no good solution to address the problem.
Christian Heinrich: I have two children. I won't prevent them from playing online games since it's a kind of social trend; but I will limit their games' time. The time for their reading is before sleeping.
Q: How many books will you write in the future?
Christian Jolibois: Well, I could not tell you the exact number. I won't stop writing until the day the readers can't find anything interesting in the books. I think we won't let the readers down.
Christian Heinrich: We have lots of good ideas yet to be realized, so we will continue to write.