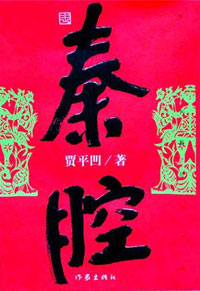 Prominent Chinese writer Jia Pingwa has won the 7th Mao Dun Literary Prize for his earthy novel, Qin Qiang, Xi'an Evening News reports.
Jia is the third renowned writer from northwest China's Shaanxi Province to win this top national laurel that comes every three years. Twenty years ago, Jia's province fellow writer Lu Yao won the prize for his Ordinary World, followed by Chen Zhongshi ten years later in 1998 for his White Deer Field.
The Chinese Writers Association made this year's announcement late Monday evening, October 27. Jia Pingwa reportedly won 21 of the 23 judge panel votes for the prize. The other three winners are Chi Zijian, Zhou Daxin and Mai Jia.
Jia Pingwa expressed his excitement over winning the honored literary prize in China. "We don't write for the prize, however, the prize represents readers' recognition of a writer. It feels like someone is cheering "Go, go!" while you are working. That makes you feel much stronger."
Jia burned incense in front of the photos of his late parents after receiving the news, he told a reporter from Xi'an Evening Newspaper. When he wrote the novel, his father told him to build a stele for his hometown with his words. His mother, though illiterate, shared tales of the people in the countryside that later inspired his writing.
Peasant life is often the focus of Jia's writing, and Qin Qiang, Shaanxi's local opera form, and of course part of peasants life, is often naturally the setting of his works. Dating back some 2,000 years to the Qin dynasty, Qin Qiang is still a favorite pastime of farmers on the loess plateau in Northern Shaanxi.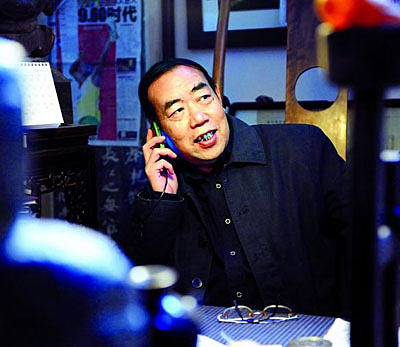 Jia Pingwa (Photo from Xi'an Evening News)
Jia's writing mostly depicts the people back in his native province of Shaanxi, and their lives during China's reforms and urbanization. The writer revealed that he sometimes tells specific stories about his own family in the novel.
Some say Jia's novels are gloomy and difficult to read due to the use of local dialect and trivial side plots. Despite these opinions, the judges spoke highly of his masterpiece, saying "once you get into the story, you never want to get out. People should not gulp, but read with patience."
The judges admitted that Qin Qiang poses a great challenge to ordinary readers. "The Mao Dun Prize aims to set a new standard in literature. We must always go against tradition if we want to achieve artistic innovation," an article in the Western China Urban Newspaper says.
Jia Pingwa is a celebrated contemporary writer who has won worldwide recognition for his novels The Abandoned City, Gaolaozhuang Village, The Turbulence and Remembering Wolves, some of which were previously nominated for the prize.
The prize-wining novel is expected to make a splash in the near future. The writer is already working on his new book, reportedly a novel about his childhood memories.
(CRIENGLISH.com October 30, 2008)