Travel Around China, the English version of You Bian Zhongguo, one of the best selling guidebooks on the Chinese mainland, launched in Beijing on July 11, 2008.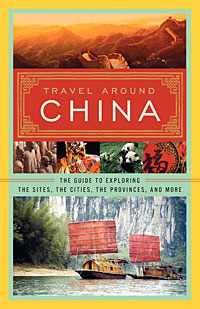 The cover of Travel Around China
Published by HarperCollins, one of the largest English-language publishers in the world, the guidebook's latest edition comprises a staggering 1,247 tourist attractions chosen by dozens of experts on Chinese tourism, and 33 world natural and cultural heritage sites. These range from the royal architecture of the Forbidden City and Olympic venues in Beijing to the millennium-old city and folk residences in Lijiang, Yunnan Province; from Peking Opera to folk songs; from the Spring Festival and the Han Festival of Lanterns to the Tibetan Sour Milk Drinking Festival; from Beijing roast duck to Chengdu's spicy delicacies; from the magnificent Beijing Hotel to villages and farmhouses with unique local flavor.
It takes a closer look at China by putting a finger on her dynamic pulse. The quality recommendations -- involving, among other things, shopping, lodging, transportation -- are guaranteed to ensure that visitors are able to travel around China economically, while still having the richest experiences in the shortest period of time.