Bertelsmann AG, the German media group, announced on July 4 that it will close its Chinese book club and halt Shanghai Bertelsmann Culture Industry Co Ltd's business in China although it said it will not withdraw from the market.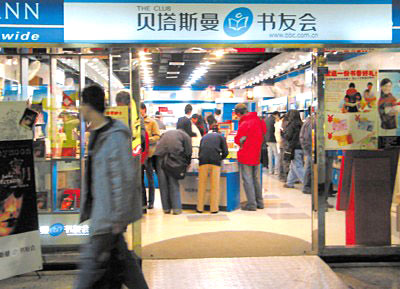 A man walks in front of a store of Bertelsmann (File photo: Baidu.com)
In a statement Bertelsmann sent to Shanghai Daily, it said the decision was reached following a change in business strategy. Two weeks earlier, Bertelsmann announced it would close 36 stores of the 21st Century Book Chain in Beijing.
With the closure of its Chinese book club, all 9 bookstores in Shanghai will also shut by July 31. Despite the closures, the company denied it was retreating from the market.
"We see the two businesses failing to maintain their fast development and size in the long term amid a rapidly changing market,'' Bertelsmann said in the statement. "But we will continue to focus on other fast developing businesses in China, one of the three most important markets that will drive Bertelsmann's global business."
The German firm also has affiliates in China involved in the media service and publication business. In January this year, Bertelsmann established the Asia Investment Fund with a $100-million initial investment to tap the new media sector.
Bertelsmann, which pioneered the book club concept, entered China in 1995. Its book club members hit 1.5 million in 2000 and sales were worth 150 million yuan ($21.7 million) in 2002. But sales dropped sharply in 2004 and 2005.
Analysts attributed the failure of its book clubs to the rise of online bookstores which took a big bite of the profits of the traditional bricks-and-mortar bookstores.
The company assured book club members that they would get back their money in their accounts through a postal remittance. Members can check how much money is left in their accounts through the Website or call center before December 25 this year.
The book club will stop accepting orders, including online orders and mail order catalogues from Tuesday. But it will continue its policy of buyers being able to return books within 15 days.
Bertelsmann also said it would pay compensation packages to all store employees according to Chinese laws and regulations.
(Shanghai Daily July 5, 2008)