"A booming Bible industry is on its way to turning the world's biggest atheist nation into the world's largest producer of the Good Book," the Los Angeles Times reported on China's Bible printing business on June 22.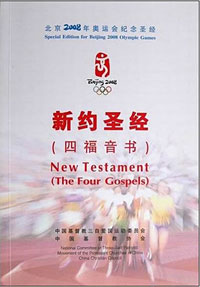 The western media are always interested in this market, but their misunderstanding about it is also long standing. Many of them considered that Bibles are unavailable in China. Some foreigners even believe that China will forbid the import of Bibles during the Olympic Games.
If Ye Xiaowen, director of the National Religious Affairs Bureau, had not announced at the end of last year that China's religious groups would provide adequate copies of the Bible for visiting athletes and tourists, many foreigners would still be unaware that there is an authorized Bible printing company in China.
This mysterious company is Amity Printing Co. Ltd, according to an International Herald Leader report on June 30.
Founded in 1988, Amity has printed more than 50 million Bibles, of which 41 million are Chinese and eight ethnic minority language versions. The remaining 9 million are mainly exported to Africa and Russia.
Amity produces a number of different editions, including a Chinese-English version, a Braille version, a children's version, etc. Liu Lei, vice general manager of Amity, explains that they employ a blind man to exam the quality of the Braille edition. It takes 32 Braille volumes to cover the whole of the Bible's contents. The production process is so complex that only two volumes per day can be produced.
According to Liu, domestic demand for Bibles has been stable in recent years, and shows no tendency to slow down.
Only available in churches
The fact that Bibles are printed in large quantities can be attributed to Ding Guangxun, the president of Amity Fund, and former chairman of the National Committee of Three-Self Patriotic Movement of the Protestant Churches in China (National TSPM).
Liu states that Amity, the sole authorized mass-producer of Bibles, was initiated jointly by the Amity Fund and the United Bible Society in 1986.
Because the paper used is donated by the United Bible Society, Bibles in China's market are inexpensive. To make full use of production capacity and reduce running costs, Amity also processes different versions of Bible for churches from many other countries and regions. Most of the Bibles on the market are printed to fulfill the needs of the China Christian Council, they are unavailable in common bookshops such as Xinhua Bookstore.
But Liu confirms that non-Christians can also buy Bibles because bookstores in churches are open to all citizens. Sometimes people can even buy them at the gates of a church.
Bibles in hotels, or not?
A rumor grew last year that foreign Olympic athletes would not be allowed to bring Bibles into China. Liu says that they are expecting to increase their print runs of Bibles, and this would scotch such rumors as "China has to import Bibles".
On June 20, the Times reported in an article entitled "China gives blessing to Olympic Bibles" that "the Bible Society described the Chinese government's co-operation in the distribution of the Bibles by branding it under Beijing 2008, as a breakthrough for the Church in China".
The Secretariat of the China Christian Council also confirmed that thousands of Bibles have been printed and sent to the IOC.
Vice Chairman of the China Catholicism Patriotic Association Liu Bainian told the International Herald Leader that the provision of Bibles in international hotels would eliminate foreign misunderstandings about China's religious policy, but whether or not this will be done remains an open question.
(China.org.cn July 2, 2008)