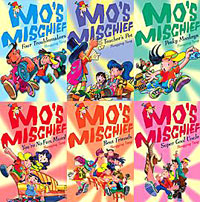 Author: Yang Hongying
Publisher: HarperCollins Publishers
Year of publication: 2008
Price: ₤4.99 each title
Size: 194×124 mm
Pages: 160
Features:
Since its debut in July 2003, the series has published 18 titles, all of which have received a warm welcome from Chinese children. By 2007, the series had sold over 10 million copies. Full of fun and humor, it tells of the happy life of a group of naughty boys and the humorous stories that play out between their parents, teachers and schoolmates. It reflects current life, a modern reality; it encourages children's natural good nature while caring for their feelings and encouraging the fun of childhood. It explores the misunderstandings and miscommunications between adults and children, helps to improve understanding and communication, and emphasizes a healthy, harmonious and happy childhood.
Abstracts

1. Four Troublemakers -- sold 700,000 copies
Mo has three buddies -- Hippo Zhang Da, Ape Mao Chao and Penguin Tang Fei. Zhang Da got his nickname from his big mouth, but he's bad at arguing. Mao Chao is skinny as a monkey, but talks much more than monkeys do. Tang Fei has a belly and a walk like a penguin. These four naughty boys have their own special skills, and go on to become real-life "little heroes"...
ISBN: 978-0-00-727339-3

2. Teacher's Pet -- sold 720,000 copies
Mo can never get along with his deskmate Lu Manman. The girl wants to discipline him, but he is trying to escape her control. They never stop fighting. Lu Manman is class president and wants to join the school committee. Surprisingly, Mo persuades people to vote for her, and when Lu Manman falls sick, he goes to see her on behalf of the class...What's going on between them?
ISBN: 978-0-00-727340-9

3. Pesky Monkeys -- sold 740,000 copies
Mo goes to his grandparents' home in the countryside for his summer vacation. He has so much fun staying there, making many new friends, roller-skating, playing hide-and-seek with dogs, etc. Also, he sees many rare animals...When a group of monkeys do something bad to some visitors, what does Mo do to them?
ISBN: 978-0-00-727341-6

4. You're Not Fun, Mum! -- sold 660,000 copies
Who is Mo's most beloved? It's his "Baby Mom". If somebody says something bad about her, Mo fights with that person. He considers his mom not only "the most beautiful mom in the world", but also a good detective. Once he tried to frame his dad, and Mom found out immediately. How is Mo going to celebrate Mother's Day? When Mom is injured and Dad is away on a business trip, how does Mo take care of Mom?
ISBN: 978-0-00-727342-3

5. Best Friends -- sold 700,000 copies
Who is Mo's most favorite girl in class? It's Xia Linguo. She's pretty, smart and nice. Mo wants to sit with her, but teachers and classmates look down upon him. Even though they can't sit together, they hang around together after school. Mo is very happy, but rumors begin to spread...
ISBN: 978-0-00-728431-3

6. Super Cool Uncle -- sold 590,000 copies
Dink Uncle is unique: his hair is colorful, he always carries his laptop, his workplace is inside cafes...He liked bungee jumping, car racing, and every kind of bar. Dink Uncle is a mystery to Mo. He's over thirty and still single. Mao Xiaotiao tries to find a wife for his uncle.
ISBN: 978-0-00-728432-0
Reasons for recommendation:
★ 41 months on Chinese children's book bestseller list
★ Sold over 10 million copies in 47 months, topping the sale of Chinese children's literature books
★ The animated version will be launched soon; a film and TV series are in production
★ Drama and stage performance tour around China since 2006
★ In 2006, a French edition was published
★ Reports in over 100 newspapers and other media
About the author:
Yang Hongying, honored as the Queen of children's books in China, began to publish these books at the age of 19. She has been a primary school teacher, and a children's literature editor (editor-in-chief later). She is now a full-time author of children's books.
So far, Yang has published more than 50 fairy tales and children's novels; 19 million copies have been sold on the Chinese mainland since 2000. Among them, the Smiling Cat series (6 volumes), the Mo's Mischief series (18 volumes), and Yang Hongying Campus Novel series (5 volumes) have been the highest selling.
Yang's works reflect the reality of life and psychology of contemporary Chinese children. She aims to facilitate the communication between children and adults, and advocates a healthy, harmonious and happy childhood. Her work is full of humor and tenderness. Her educational theories, which emphasize humanity first, have exercised great influence over primary and middle schools all over China.
Purchase here:
Telephone: 86 10 8518 8500 * 5560
Fax: +86 10 8518 8495
E-mail: michelle.wu@harpercollins.com